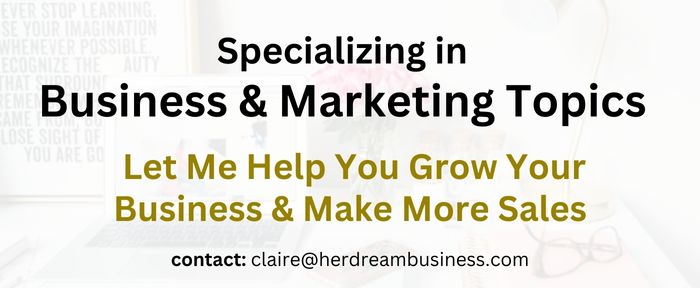 Hi, I'm Claire Bullerwell,
I'm a professional freelance writer and I specialize in writing in-depth blog posts on business and marketing topics.
I've been blogging since 2005 and so I know a lot about writing blog content for both the reader and for SEO purposes.
I can write blog posts in many styles, such as:
'How To'
Listicles
Checklists
Tutorials
Case Studies, etc.
Of course, I can create custom blog posts that your audience will love and which will brand your business in an amazingly positive way.
Here are some samples of my blog posts:
My Qualifications
I have a Degree, a B.A. (Hons) in Business Studies, and I've been creating and running blogs in a variety of niches since 2005.
I now operate my own blog and brand at www.herdreambusiness.com where I help women find and start their dream home business.
Pricing
I charge $0.12 per word.
Here are some examples of blog posts by word-length:
1,500 words: $180
2,000 words: $240
3,000 words: $360
Please note that this price is approximate and exact pricing varies based on the projects' scope and how much research I need to do.
Please don't hesitate to reach out to me so we can discuss your project and come to a mutual beneficial price.
Contact: claire @ herdreambusiness.com
I look forward to hearing from you.
Warmly,
Claire