Are you a disabled person looking for ways to start your own business from home?
I personally know that starting a business can be daunting for anyone.
But with the right mix of advice, dedication, creativity, anyone with a disability can make their dreams come true.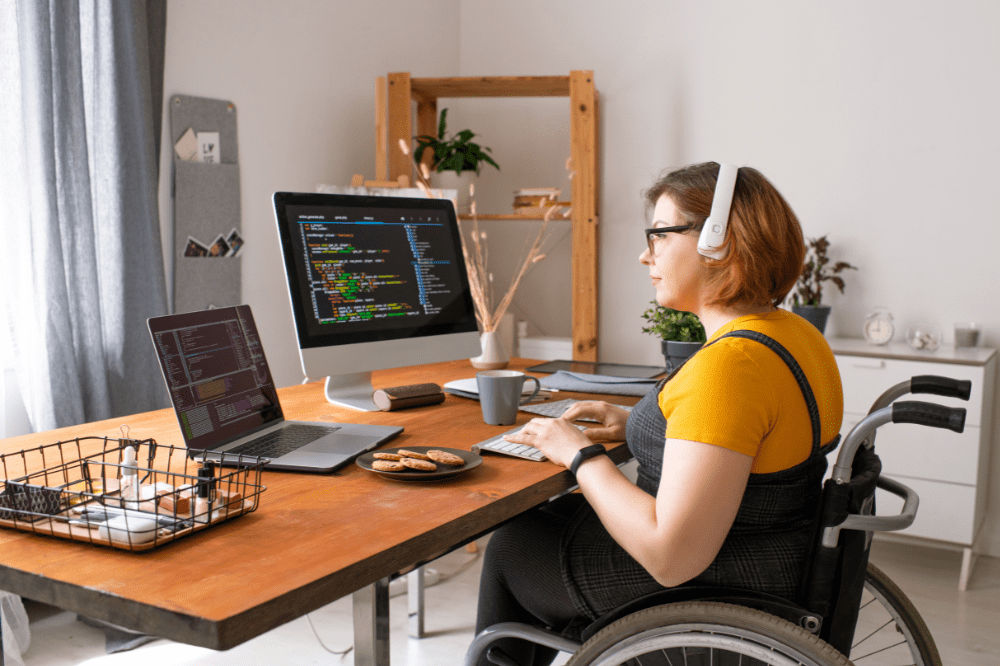 This post may contain affiliate links. Please see our disclosure policy for more information.
In this article, I'm going to share some great ideas on how to launch a successful home-based business as a disabled person.
Topics which I'm covering are:
Benefits of a Home-Based Business for Disabled People
Why an Online Business Is THE Best Business Model
Dropshipping eCommerce Store
Blogging
Freelance Writing
Proofreading
Virtual Assistant
Online Tutoring
Online Coaching
Identify Your Strengths & Passions
Research More Business Ideas
Get Support
Success Stories of Successful Disabled Entrepreneurs
Conclusion
So let's get started…
SELF EMPLOYMENT IDEAS FOR DISABLED PERSONS
Explanation of Home Based Businesses
A home-based business is an entrepreneurial venture that operates primarily out of the owner's residence, utilizing a dedicated space or a portion of the house for conducting business activities.
This type of business allows individuals to enjoy the flexibility and convenience of working from home, while pursuing their professional goals and generating income.
The Benefits of a Home-Based Business for Disabled Individuals
Flexibility in Working Hours
One of the biggest benefits of a home-based business is flexibility.
Some people with a disability may struggle with physical limitations that make it difficult to maintain a traditional job schedule.
But by working from home, you can set your own hours and tailor your workload to fit your needs.
Another advantage is the ability to work at your own pace. Some home businesses often involve tasks that require concentration and attention to detail, but with no distractions or interruptions from coworkers, disabled entrepreneurs can focus on completing tasks at a pace that works best for them.
Reduced The Need for Physical Mobility and Transportation
A home-based business is an excellent opportunity for disabled individuals, as it significantly reduces the need for physical mobility and transportation, which can be challenging for them. Working from home allows these entrepreneurs to create a comfortable, accessible, and customized workspace that caters to their specific needs, promoting productivity and well-being.
Furthermore, a home-based business eliminates the daily commute, saving time, energy, and resources, while reducing dependence on accessible public transportation or specialized vehicles. This independence empowers disabled individuals to focus on their skills and talents, fostering professional growth and self-sufficiency. Additionally, flexible work hours enable them to manage their health and business commitments more effectively, contributing to a better work-life balance.
Control Over The Work Environment
A home business for disabled individuals offers significant control over their work environment, which can be crucial for their comfort and productivity. By working from home, they can tailor their workspace according to their specific needs, such as ergonomic furniture, assistive technology, or customized lighting and temperature settings. This personalization ensures a barrier-free and efficient work area, enabling them to focus on their tasks without hindrances.
Moreover, having control over their work environment allows disabled entrepreneurs to manage potential distractions and set boundaries between their professional and personal lives. This autonomy leads to a better work-life balance, higher job satisfaction, and an overall sense of accomplishment, boosting their self-esteem and motivation to excel in their home-based ventures.
ONLINE BUSINESS IDEAS FOR PEOPLE WITH DISABILITIES
The Online Business Model
pp
Digital tools and assistive technologies enable effective communication, collaboration, and management. Reduced physical demands and the elimination of commuting simplify daily tasks. Moreover, the online environment fosters inclusivity, enabling disabled entrepreneurs to showcase their talents and abilities without facing discrimination. Ultimately, an online business presents a level playing field for disabled individuals to attain self-sufficiency, independence, and success in a global market.
Here are some examples of fantastic onine business you could run:
1) Dropshipping E-commerce Store
A dropshipping eCommerce store is a fantastic business model where you, the store owner, sell products without actually holding any inventory.
When a customer places an order, you forward it to your supplier, who takes care of shipping the product directly to the customer. This way, you don't need to worry about stocking or shipping items yourself! You just focus on marketing and customer service, while your supplier handles the rest.
The best part is that you only pay for products once a sale is made, which reduces upfront costs and risk.
It's a great way to start an online business with minimal investment!
Find out more information from Shopify about running an online dropshipping business.
2) Blogging
Blogging is an amazing online business model that allows you to share your passions, knowledge, and experiences with the world while potentially making a living. With just a computer and internet connection, you can reach a global audience and create a loyal following.
The more traffic you attract, the more opportunities to monetize through ads, sponsored content, affiliate marketing, or even selling your own products or digital products.
Plus, you have the freedom to work from anywhere, set your own schedule, and choose your niche.
The low startup cost and endless potential make blogging an exciting, accessible, and rewarding venture!
3) Freelance Writing
Freelance writing and proofreading are fantastic online businesses for those who love working with words. As a freelance writer, you can create content for various industries, giving you the chance to explore different topics and hone your skills.
4) Proofreading
Proofreading, on the other hand, lets you polish written work to perfection. Both offer the freedom to choose clients, projects, and workload, so you can achieve a great work-life balance. Plus, these businesses have low startup costs and can be done from anywhere with an internet connection. With the constant demand for high-quality content, freelance writing and proofreading are lucrative, flexible, and fulfilling career choices!
5) Virtual Assistant Services
Being a virtual assistant (VA) is a very popular, and in demand, online business for those who enjoy helping others.
As a VA, you provide administrative, technical, or creative support to clients from the comfort of your own home. You can choose the services which you want to offer based on your own skill set, such as managing emails, scheduling appointments, or managing social media accounts.
This flexibility of being an online virtual assistant lets you cater to your strengths and interests. The growing demand for remote work and the chance to work with various clients make being a virtual assistant a thriving business with endless opportunities.
6) Online Tutoring
Online tutoring is a fantastic online business because it connects students and educators across the globe, breaking geographical barriers.
It offers flexible scheduling, making learning more accessible for busy individuals. This business model capitalizes on the growing demand for personalized education, catering to various learning styles and needs.
With low startup costs, it's an attractive venture for passionate educators. As online tutoring utilizes technology, it also promotes digital literacy and environmental friendliness by reducing paper usage.
7) Online Coaching
Being an online coach is a very profitable business because people are willing to pay for personal development and personal growth from the comfort of their own homes.
Coaches can reach a wider audience, via Zoom, helping people achieve their goals in areas like career, fitness, or relationships.
This versatile business model allows for flexible scheduling, making coaching sessions convenient for clients with busy lives. With minimal startup costs and the ability to scale, it's a profitable business opportunity for aspiring coaches.
Embracing technology, online coaching reduces environmental impact and fosters digital literacy. By empowering clients to reach their full potential, online coaching makes a lasting, positive impact on lives around the world.
How To Get Started With Your Own Home Business
Identify your Strengths and Passions
To make sure you pick the perfect business for yourself, I always suggest starting with a little self-reflection.
This self-assessment is all about discovering:
Your strengths
Your weaknesses
What you enjoy
What you dislike
… and a whole lot more about yourself!
Once you've completed this self-assessment, you'll be in a fantastic position to compare your insights with various business ideas. That way, you can find the one that's the absolute best fit for you.
Research Different Types of Businesses
Once you've done your self assessment, keep researching small business ideas which you can do from home, and then match them up with your self assessment.
Get Support
Seek guidance from support groups or mentors
National Disability Institute (NDI): The NDI aims to improve the financial health and well-being of individuals with disabilities. They provide resources and support to disabled entrepreneurs, including financial education and self employment development.
Disabled Businesspersons Association (DBA): The DBA is a nonprofit organization that promotes entrepreneurship among individuals with disabilities. They offer support, resources, and networking opportunities for disabled entrepreneurs.
Entrepreneurs with Disabilities Network (EDN): EDN is a support network that offers resources, training, and mentorship to entrepreneurs with disabilities. They provide assistance in various aspects of starting and managing a home-based business.
Success Stories
Here are five success stories of people with various disabilities who are now successful entrepreneurs with their own home-based businesses.
I hope these give you hope and inspiration…
Nick Vujicic: Born with Tetra-amelia syndrome, a rare disorder characterized by the absence of arms and legs, Nick Vujicic has become a renowned motivational speaker, author, and entrepreneur. Despite his disability, Nick founded his own website, Life Without Limbs, which aims to inspire others to overcome their challenges through motivational speaking and written content.
Jessica Cox: Born without arms due to a rare birth defect, Jessica Cox has defied expectations and limitations by becoming the world's first licensed armless pilot, a motivational speaker, and an entrepreneur. She is now has her own website, Jessica Cox, and is a professional speaker, traveling the world to share her story and inspire others to overcome adversity.
Tim Hoyt: Tim Hoyt, who has cerebral palsy and is legally blind, is the founder of 2kGrey, a successful equestrian apparel business. Operating from his home, Tim has built a thriving brand that designs and sells riding clothes and accessories for equestrians. Despite his disabilities, he has managed to create a successful business by utilizing his creativity, determination, and passion for the sport.
Srin Madipalli: Srin Madipalli, who has Spinal Muscular Atrophy, is a successful entrepreneur and advocate for accessible travel. He co-founded Accomable, a home-based business that provided a platform for people with disabilities to find and book accessible vacation rentals. Although Accomable was later acquired by Airbnb, Srin's vision and determination helped create a more inclusive travel industry for people with disabilities.
Tiffany Sunday: Diagnosed with dyslexia at a young age, Tiffany Sunday overcame her learning disability and became a successful author, speaker, and entrepreneur. She runs her own home-based business, providing consulting services, writing books, and delivering keynote speeches on topics such as entrepreneurship, innovation, and dyslexia. Her work has made a significant impact in helping others with learning disabilities recognize their unique strengths and potential.
Conclusion
I hope that this blog post has provided you with the encouragement and motivation to pursue entrepreneurship despite any disabilities you may have.
Remember, success comes in all shapes and sizes, and there is no one "right" way to achieve it. But by leveraging your strenghts, uniqueness, you can create a home business that not only meets your needs but also makes a positive impact for others.
So go ahead and take that first step towards your entrepreneurial dreams!
Hi, I'm Claire Bullerwell
I've ran dozens of home-based businesses, both offline and online, since my early twenties. I started this blog to share all my wealth of knowledge and experience to help women just like you; to find your dream home business. Fill that empty nest, work around your menopause and just live your best life at 50 something!
Follow me and let's get acquainted…