Hi, I'm Claire Bullerwell the founder of Her Dream Business.
If you're looking to find and start a home-based business, then you're in the right place.
I created Her Dream Business specifically to help ambitious women to find and start a home business which they not only enjoy, but a one to help them create a new and exciting chapter in their lives.
Whilst I'm not an expert in relationships, health & fitness or a finance nerd, I do know a thing or two about starting and running small businesses from home.
So this website is for you if you want to start a little business from home …
To leave your work 9-5.
To work around your kids.
To help fill your empty nest.
Menopause is a problem at work.
You want to semi-retire with your own home business.
You feel a bit lost and need a new project.
You want to make more money to enjoy life more.
You want to make more money to save for retirement.
You want to make an income around depression or anxiety.
You want to make an income around a slight disability issue.
You want to make an income around a long-term illness.
Fill in your own personal reason here _____________.
No matter what your personal reason is to find and start a home business, I can help you get there.
A Little Bit About Me
I wanted to start a home-based business from my early twenties; I hadn't a clue what I wanted to do, but I just had that burning entrepreneurial streak in me.
Back then, the Internet wasn't a thing and people definitely didn't have computers at home (this was around 1994), so I had to find other ways to search for home business ideas.
I sent away for pamphlets with business ideas listed, but they were all just get rich quick scams. Remember envelope stuffing from home? Yes, that was a scam!
By 1997 my desire to start a home business was still there, and guess what? I got a home computer!
I instantly saw that having a computer was a sure way to make money from home.
The first thing I did was set up my own typing business as I was a trained typist. I sent out snail mail letters to small local businesses letting them know of my typing service. I got quite a few clients with this method.
At the time I was also working as an Office Manager at a local university, and so I had posters put on noticeboards in a lot of different departments stating that I could type up essays, dissertations and short stories. This kept me very busy in the evenings and weekends.
After a while I decided that I was not enjoying my little typing business and it was taking up all of my spare time on top of my stressful day job, and so I closed the business down.
Then when I was in my early thirties I had my two sons (who are now 18 and 21) and I desperately didn't want to go back to work – as an Office Manager at a local University – so I ended up going on an (unintended) home-based business extravaganza!
I'll not go into my looong journey of all the different home businesses I've tried over the years, but just know that this website is a result of the journey I've been on and to finally find a home business which I enjoy.
You can read
my case study
of the steps I took to find my dream home business when I was 51.
I've since realized that there are literally thousands of women like me who would like to make money from home with their own little business.  This was when I had the idea of creating this website to help women who are also in their fifties to find and start a small business from home.
I want you to avoid going on a home-based business extravaganza like I did and instead, find a home business which you enjoy and is profitable from the onset.
You can jump straight in and get started here.
How Am I Qualified To Teach You?
I don't actually like to use the word 'teach' because this website is just me, now aged 53, sharing my experiences, knowledge and wisdom with fellow women of any age. So the 'teaching' is just my blog posts and my Home Business Roadmap ebook sharing my experiences and knowledge.
Because I've tried many home-based businesses over the years, both offline and online (see below), I didn't realize how much knowledge I had accumulated until I started going into female entrepreneur Facebook groups.
When I go into these groups, I see many women ask questions about how they can start a home based business, some of them not wanting to run an online business, and I so desperately want to reach out and help them. However, with Facebook posts getting knocked down every minute, it's hard to keep up.
So this is the reason why I created this website so I can share all my knowledge and experience in one place.
Also, I've always have this weird fascination of 'business' and have bought and read many books on business and marketing, both offline and online.
B.A. (Hons) Business Studies (1997)
When I was 25 I became a mature student to study for a University degree in Business Studies on a part-time basis as a day release from work. This was funded by the Staff Development Unit at the university where I worked at as an Office Manager – I now realize how lucky I was to get this all paid for.
I graduated in 1997 with a 2:2.
Self-Employment Business Start-Up Course (1998)
After my degree, I still had a fascination of running my own business from home and I found a course on becoming self-employed and starting a small business. I attended this course every Tuesday evening for six weeks.
In fact, it was this self-employment business start-up course where I learned things such as:
Market research.
Finding your target market.
Competitor analysis.
SWOT analysis.
Creating a business plan.
Basic bookkeeping.
All of these are covered in detail in my Home Business Roadmap ebook.
My Home Business Ventures
Here are some of my home business ventures:
Got my first home computer in 1997 and started a typing business (offline)
Started searching to find ways to make money from the Internet
Management Domestic Cleaning Business (employed two cleaners to do the cleaning)
Multi Level Marketing (Herbalife then Kleeneze)
Ran an eBay store selling ladies plus size clothes called SheekCurves.
Building 'authority' websites in various different niches
Building Word Press blogs in various niches such as facial skin care and anti aging
Direct marketing via squeeze pages and autoresponders
Virtual Assistant (Email Customer Service)
Home-Based Typing Business (online)
Writing and selling ebooks
Writing and selling Kindle books.
Creating digital products
Why did I start so many?
For a variety of reasons:
Some worked, some didn't.
Some were profitable, some weren't.
Some I enjoyed, others I didn't enjoy.
Also, I was a mother to two very lively little boys which obviously took up a lot of my time, focus and energy.
My eldest son was born with bowel and bladder complications and had to undergo many operations as a baby, and I also had severe postnatal depression.
I've since done a HUGE amount of mindset work, healing and building up my self-worth and self-esteem – and I am happy to report that I am in a much, much better place.
My mindset is now in the right place to fulfill my vision to grow my 'Her Dream Business' business into a roaring success, enjoy my midlife years with Sean, my lovely husband, and watch my two gorgeous sons make a life for themselves.
This is our most recent family vacation to Dubrovnik, Croatia – July 2022
Our two sons, Jonathan & Matthew and Me & Sean – we live in the UK
Are You Ready To Start & Grow Your Dream Home Business?
Now it's your turn.
I've assembled a Start Here guide compiled of the most important blog posts to help you decide if you're cut out for self-employment, and then to find and start your own small business from home.
You can also subscribe to my free 5-day email course titled "7 Things You Can Do Right Now To Start Your Dream Home Business".
Or, you can dive straight in with the Home Business Roadmap ebook + bonuses.
Or of course, you can do all three!
Oh, and don't forget to read my case study of how I found my dream home business at 51.
Wishing you all the luck in the world, no matter what you choose to do.
Claire x

P.S. I did originally start a website called Home Working Women way back in 2012 but I had to close it down due to personal reasons (as explained above). I'm now reviving that old website with Her Dream Business.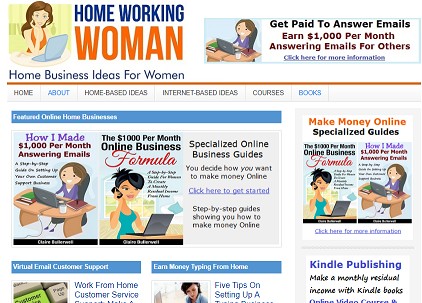 This is a snapshot of my old website back in 2012.
Her Dream Business will be even bigger and better 🙂
Plus, I've got 10 years more experience since then.
I'm so excited to share all my experiences with you!
Let's do this ♥