My Case Study
This is a little case study detailing the steps I took to find my dream home business with the hope and intention that this will inspire you to find and start your dream home business at 50+ too.
After years of running various home businesses and not finding a great lot of success in any of them, for a variety of reasons, I took a hiatus from being online and from doing anything home business related.
There's a lot of lifetime emotional background stuff which has affected me deeply as an adult, and this is the main reason why most of my little businesses didn't become a huge success.
I've since done a LOT of mindset work and healing, and I'm now in a much, much better place.
I talk about this on my About Me page.
I took some time just staying at home to do some deep thinking, soul searching and to really think about what I wanted to do with my life now that I was 51.
This wasn't just about making money, but to also find something which I enjoyed doing on a daily basis and to give me a new purpose now that I had entered my 50's and my two sons are grown up.
I still wasn't sure what I wanted to do, but I knew that this was going to be the last time I started a home business – as I just couldn't face another failure!
Here are the main two steps I took:
#1 Learned From Past Mistakes & Failures: I wrote down all the home businesses that I had done and either didn't like or I failed at in the past. This was my 'learn from past failures and mistakes' list.
#2 Done a Self-Assessment: I wrote down a detailed list of my strengths and weaknesses and what I like and don't like.
I then did the following…
1. Categorized Business Ideas
I did a lot of research and listed all the potential business ideas I could find, and then put them into categories.
I found 72+ business ideas, then I placed them into 6 categories, some with sub-categories.
2. Brainstormed Ideas
I brainstormed ideas and cast aside ones which I knew I definitely didn't want to do and put some ideas into a 'maybe' list.
3. Matched My Self-Assessment To My Dream Home Business Idea
After I done my self-assessment exercise, I then went through and matched the remaining business ideas with my strengths, weaknesses, likes and dislikes.
In the end, the ideal home business I came up with was… my Her Dream Business Blog.
I decided to create a blog to help women in their 50's who are in the same situation as I was in and help them find and start their dream home business.
IMPORTANT: This is how I matched up my self-assessment with a business idea…
Likes/Dislikes:
I started with looking at the list of my past home businesses, and analyzed which ones I liked, and why I liked them, and then analyzed the ones I didn't like, and why disliked them.
Straight away this disregarded dozens of business ideas. But equally, I also had a list of potential business ideas.
My Main Strength:
I love to help people. It's just in my nature.
I go beyond what's expected when I help people. I had the best customer service in my eBay store business where I had a 100% positive feedback score.
I also went beyond customers' expectations in my domestic cleaning business too, so I know that this is a strong strength of mine.
Therefore, I had to find a business where I could really help people. This was very important to me as it just aligns with my core values.
My Skills:
I'm good at creating blogs, writing blog posts and creating ebooks. I also know quite a bit about online marketing, so I knew how I would get my blog seen by my target audience.
My Knowledge/Experience:
I have a degree in business and I also have been on a 'business start-up' course, which was a six-week offline course.
Also, the knowledge and experience I've picked up over the last 25 years with all my home business start-ups and failures had to count for something. And it does!
I didn't realize how much knowledge I had picked up over the years when I knew the answers to questions being posted in 'women in business' Facebook groups about finding and starting a home business.
My Lifestyle:
Anxiety & Menopause Symptoms
I wanted a business which was as stress free as possible. This is mainly because of all the stress, anxiety and depression I've had all my adult life, and now I needed as much peace and tranquility in my fifties as I could get with running a business.
Therefore, I needed a business which was mainly 'passive' and so I ruled out client work and meeting deadlines straight away. This was because I didn't want the stress of client work in case I had a 'down' day or if my menopause symptoms kept me from functioning properly.
Work Part-Time & Semi-Retire
I also wanted to work part-time and semi-retire so I could do more self-care, get new hobbies, meet new people and make new friends.
This is why I chose to blog and run Her Dream Business as a business blog for women. I knew I could monetize the blog with my own digital products (my ebook and my spreadsheet) and maybe some affiliate products.
I Done My Market Research
Just to make sure I was on the right path with my home business for women blog, I did market research by going into Facebook groups and spying on conversations which were going on with my target market.
I was right. There were plenty of women who were in their 50's who wanted to start a business but couldn't come up with a business idea or know which steps to take to actually get their idea off the ground.
I also did a ton of other research too, to help me finalize my business idea.
So in a nutshell this is how I came up with my business idea.
Replaced My Anxiety With Euphoria!
Since going through these steps and starting Her Dream Business, I don't seem to have anxiety anymore over building up my new business.
I think the reason why my anxiety levels have dropped is that I did a self-assessment and done as much research as I could to make sure it was not only profitable, but that it also aligned and fitted into my core values.
Everything about my woman's business blog just seems to fit and slot into place like I was really meant to do this. To do this now, now that I'm in my 50's.
It's definitely a feeling of euphoria, but also a slightly weird feeling since I'm not used to things going so smoothly for me!
So the bottom line is… Do a self-assessment and do your research!
You can use these same steps to find and start any type of business and in any niche.
If you need help in getting started, my Home Business Roadmap can help you. It contains all the above steps, and more, that I personally used to start my dream home business, and you can use it to find and start your dream home business too.
This ebook will help you to…
Get into the right business mindset.
Do a deep self-assessment exercise.
See 72+ business ideas for inspiration.
Choose a business idea which suits you.
Know if your idea is profitable.
Do your market research and create a business plan.
Set up business systems so you're organized and productive.
► Click here to learn more about The Home Business Roadmap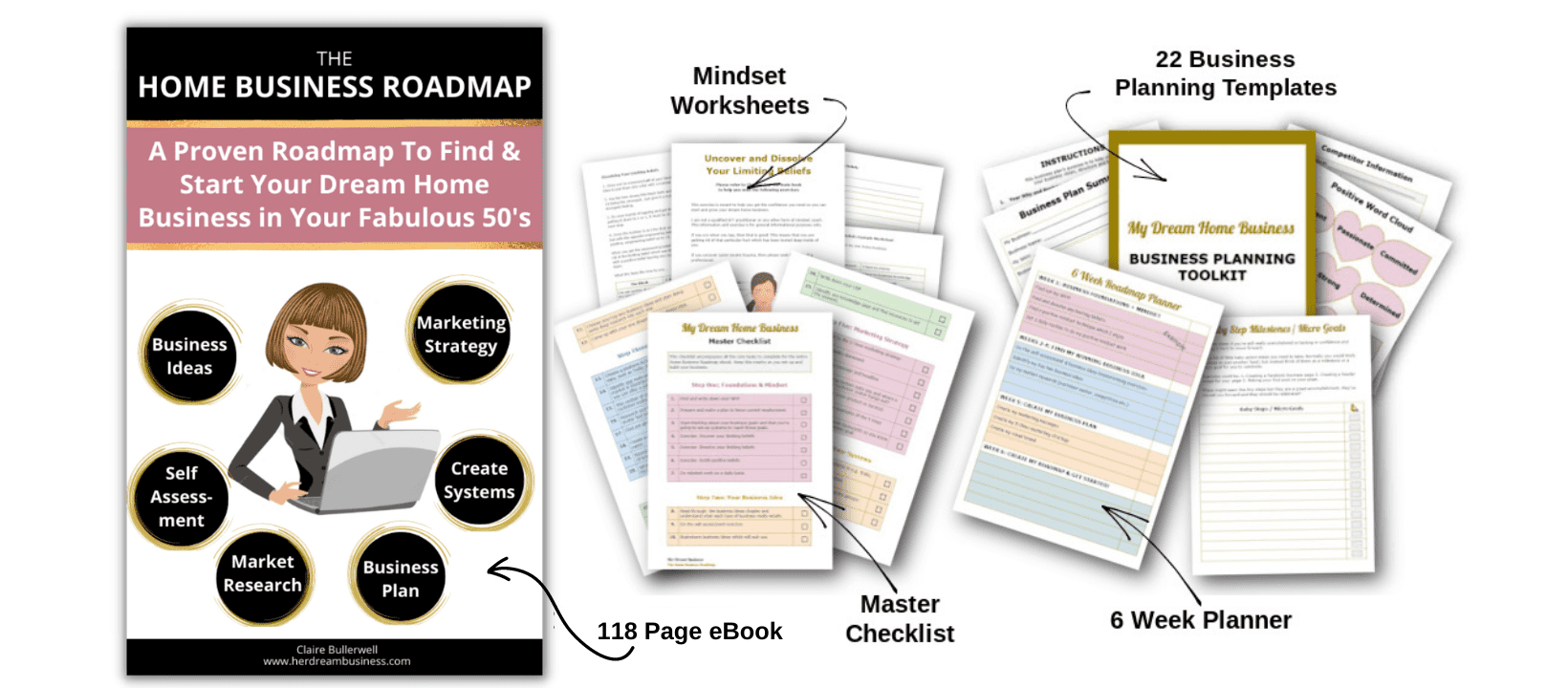 Good luck!
Claire x
Hi, I'm Claire Bullerwell
I've ran dozens of home-based businesses, both offline and online, since my early twenties. I started this blog to share all my wealth of knowledge and experience to help women just like you; to find your dream home business. Fill that empty nest, work around your menopause and just live your best life at 50 something!
Follow me and let's get acquainted…