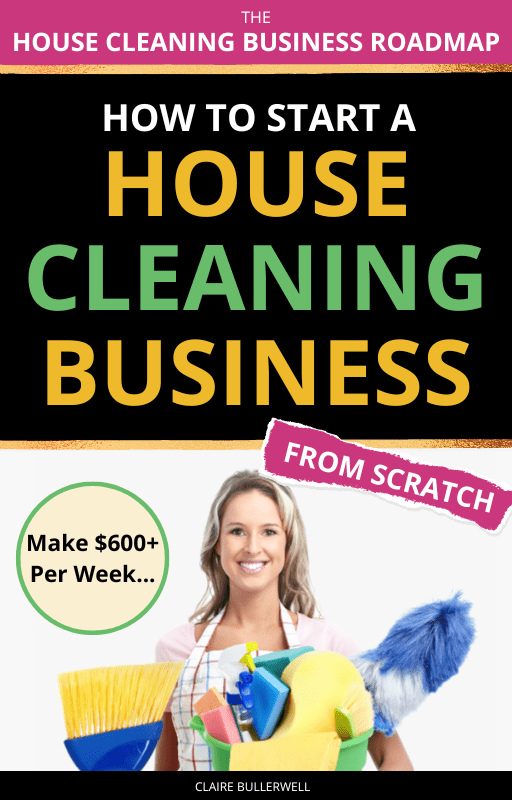 HOUSE CLEANING BUSINESS ROADMAP
$27 | Digital Download

Do you want a home-based business but you don't want to be tied to your house or your computer?
Do you want to start a business with practically zero start-up costs and very low monthly overheads?
How does earning $600+ per week sound for working only 25 hours?
Then why not start your own house cleaning business!
WHAT IS IT?
This is a PDF instant digital download.
I used to run my own house cleaning business and so I wrote this guide to help other women set-up and start their own house cleaning business too, because I understand that not everyone wants a home business where they sit at home all day using their computer.
This guide will show you how to become a self-employed independent cleaner. So it's just you going out into other peoples' homes to do their house cleaning for them.
This House Cleaning Business Roadmap shows you not only how to run the practical cleaning side of your business, but also the business side of things too.
If you put in the hours required, you can make a good weekly salary with your house cleans. But of course, you can work as little or as much as you want, this could also be a good little side-hustle if you don't want to do it full-time. 
Also, at the end of this guide I show you how you can expand your business in various different ways if you want to become a house cleaning business entrepreneur!
WHO'S IT FOR?
This guide is for any woman who wants to start their own home-based business but does not want to be tied to a computer or isolated at home all day.
You could be:
A woman who wants to run a full-time home-based business.
Someone who wants to earn some extra money on the side of their current job.
For moms who want to work while their children are in school.
Students who want to earn some extra money to help with their living expenses.
WHAT'S IN IT?
This guide is in ebook format and is 40 pages long.
Table of Contents
Welcome
Introduction
Legalities
Business Name
Set-Up Costs & Overhead Expenses
Cleaning Supplies
Types of Cleans
Identifying Potential Customers
Pricing & The $600+ a Week Formula
Keeping Your Customers
Advertising That Works
Additional Tips for Success
Expanding
Example Flyer
Example Customer Cleaning Schedule
Closing Comments
Notes
It covers everything you need to know to get your house cleaning business off to a great start, and then it shows you how to grow it into a very profitable $2,500+ a month home-based business.
SUMMARY
House cleaning services will always be in demand because everyone seems to be so busy these days.
There are plenty of cash-rich, time-poor professionals, as well as the elderly who have enough disposable income to be able to pay for cleaning services.
A house cleaning business has very low start-up costs (if any) and has extremely low monthly overheads, making this one of the most profitable home-based businesses there are to start.
So it's time to get in on this very lucrative business and to start cashing in simply by cleaning other people's homes.
HOUSE CLEANING BUSINESS ROADMAP
$27 | Digital Download