Are you looking for the perfect gift to show your appreciation and support of a female entrepreneur in your life?
But because there are so many different gift ideas; doesn't this make it so difficult to choose the perfect one?
So this is what this blog post is all about – a list of gifts for female entrepreneurs divided into categories…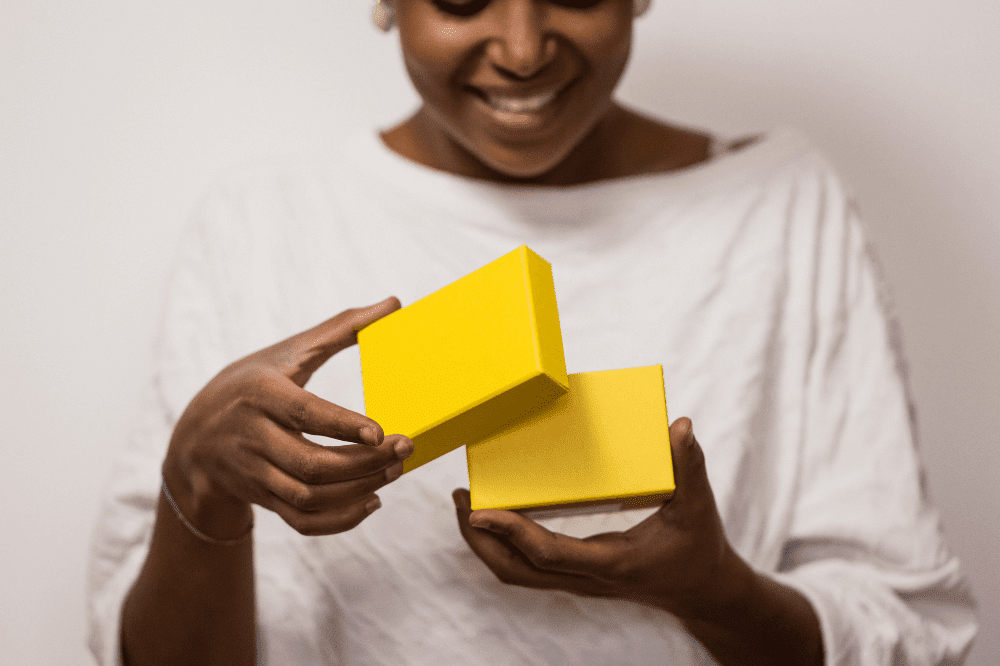 When shopping for an entrepreneurial woman, think about her passions and interests outside of business too.
It could be anything from yoga classes to day trips, tickets to shows or books by inspiring authors – whatever speaks directly to her soul will surely be appreciated.
Whatever option you choose, these gifts will remind any female entrepreneur that she isn't alone in her journey – making them invaluable tokens of gratitude.
Types Of Gifts For The Professional Woman
Here are five great gifts to consider:
Leather Portfolio / Briefcase
This is a timeless classic that will last for decades and look professional for any business event or meeting. She will appreciate its practicality as well as its timeless style.
Furthermore, if you add her initials on it in gold lettering, this thoughtful gesture will make it extra special.
Quality Pen Set
Another excellent option is a quality pen set. A stylish writing instrument such as those from Montblanc or Cross makes the perfect present when paired with personalized stationery. This sophisticated combination will show her how much you value her work and dedication while adding sophistication to every note she writes!
GIFTS FOR FEMALE ENTREPRENEURS
Home Office Gift Ideas
For the busy female entrepreneur, a home office can be a source of productivity and sanctuary. With this in mind, consider some thoughtful gifts for their workspace to show your appreciation. It could be something as simple as an extra laptop charger or a comfortable ergonomic chair. More luxurious items such as an adjustable standing desk or noise cancelling headphones are also great options for tackling the daily grind with ease.
Functionality aside, you can make sure that their work space looks stylish too! Some aesthetically pleasing additions include modern wall art, trendy plants, cozy throws, and other decorative pieces that reflect her personal style. Alternatively, gift her something special like a personalized coffee mug to commemorate all of her hard-earned successes! Ultimately, these small touches will help create an inviting atmosphere where she can focus on achieving her goals without distraction.
Office Supplies And Decorations To Brighten The Workspace
Female entrepreneurs are hardworking and dedicated to their craft. It is always a great idea to give them gifts that will help make their workspace more inviting and productive. Here are some ideas for office supplies and decorations to brighten up any female entrepreneur's workspace:
1. A colorful set of desk organizers – Desk organizers can be used for organizing papers, pens, pencils, business cards, and other items on the desktop. They come in all sorts of shapes, sizes, and colors so you can choose one that fits the style of your female entrepreneur perfectly!
2. A motivational wall art poster – This gift helps keep motivation high by reminding her of why she started her entrepreneurial journey in the first place. Many businesses offer affordable printable posters online or you could have one custom-made with an inspirational quote or image related to her line of work.
3. An ergonomic chair – Sitting comfortably is essential for productivity; get her an ergonomically designed chair that offers proper support without straining muscles and joints during long work hours at the computer.
These thoughtful presents will show your appreciation while also being practical tools that every female entrepreneur needs in order to succeed! Not only do they provide physical comfort but also mental calmness which leads to higher levels of creativity. Giving these gifts shows your recognition of how valuable her success is not just to herself but also those around her who benefit from it as well!
GIFTS FOR FEMALE ENTREPRENEURS
Gift Ideas For The Creative Business Owner
A female entrepreneur is a beacon of light in the dark, an inspiration for all to follow. She works diligently and tirelessly to achieve her dreams and make them come true. Gifts that can help her on her journey are always appreciated – here are some creative ideas:
• A stylish planner or agenda to keep track of daily tasks and appointments
• A gift card or subscription to a professional networking platform such as LinkedIn
• An inspirational book or podcast full of advice from successful entrepreneurs
Gifts should be chosen with thoughtfulness and care; something that will truly add value to your recipient's life. Whether it is something practical like stationery or something more personal like supplies for a hobby, she will appreciate your effort. Let us not forget the power of words either; kind words go a long way. Ultimately, you want your gift to show how much you believe in her success!
Practical Presents For The Busy Executive
Practical gifts for female entrepreneurs are an excellent way to show your appreciation. A well-crafted leather briefcase, for example, is sure to make a lasting impression and carries the added benefit of being useful in her day-to-day business dealings. Other practical items such as organizers, planners, or even personalized stationary can help keep her organized and on top of her workload.
For something more tangible that she can carry with her wherever she goes, consider giving a high quality power bank or bluetooth headset so she's always connected. These small but thoughtful presents will help ensure that nothing slips through the cracks while also providing a bit of convenience during hectic times. It'll also remind her that you're there when it matters most!
Inspirational Items For The Fearless Innovator
For the fearless innovator, there are plenty of inspiring items to choose from. Whether it's a gift for themselves or something that will keep them motivated and empowered; gifts like these can help female entrepreneurs reach new heights. Here's a few examples:
| Item | Description | Benefits |
| --- | --- | --- |
| Vision Board Kit | A kit filled with posters, magazines, scissors, glue, and other materials needed to create a vision board. | Encourages goal setting and provides focus on passions and objectives. |
| Personalized Mug & Pen Set | An attractive mug featuring an inspirational quote paired with an elegant pen emblazoned with the user's name. | Great desk decorations, offering practicality and sentimental value. |
| Gratitude Journal & Planner Combo Pack | A gratitude journal combined with planner pages, allowing users to record daily activities and document what they're grateful for in life. | Encourages positivity, organization, and personal growth goal achievement. |
These are just some ideas for gifts that can help female entrepreneurs stay focused and inspired in pursuit of their dreams! With any one of these items –or even several–they can keep pushing forward despite the obstacles they face along the way. Not only do these things have the potential to spark motivation but they also remind them how necessary hard work and dedication are when going after big accomplishments!
GIFT IDEAS FOR FEMALE ENTREPRENEURS
Personalized Gifts For The Risk-Taker
For the risk-taker female entrepreneur, personalized gifts are a great way to show appreciation and support. With countless options available, it can be difficult to choose the perfect present for this fearless innovator. Here is a list of some thoughtful items that will help make their entrepreneurial journey an enjoyable one:
1. Customized Stationary Set – Show your encouragement with a set of notecards or stationery featuring her name or logo. This is sure to spark creativity and provide motivation as she works through projects!
2. Engraved Business Card Holder – A sleek business card holder engraved with her initials or company name can help keep cards organized while also serving as a conversation starter at networking events.
3. Leather Journal – An embossed leather journal is ideal for jotting down ideas on the go and makes for a timeless accessory in any workspace.
4. Personalized Mug – A mug printed with her favorite quote or mission statement serves as an uplifting reminder each time she takes a sip of coffee during those long days spent working hard towards success!
No matter what gift you decide upon, taking the extra step to customize it shows just how much you believe in them and their amazing accomplishments thus far!
Technology And Gadgets For The Connected Professional
Female entrepreneurs understand the importance of staying connected to their network, peers, and clients. Technology is essential for keeping up with the ever-changing landscape of business. That's why tech gifts are an ideal choice for female entrepreneurs who need a way to stay organized, productive, and ahead of the game.
From tablets and laptops to smartwatches and fitness trackers – there are so many devices that make it easier than ever before to go digital while on-the-go. Consider gifting her a new computing device or upgrading her current one with accessories like a wireless mouse or keyboard. A mobile hotspot can also be a great gift if she needs reliable internet connection when out in the field. Alternatively, you might want to consider giving her some useful apps such as note taking tools, online project management platforms, task tracking software, etc. All these will help enhance her productivity and overall efficiency at work.
Subscription Boxes For The On-The-Go Go-Getter
For the female entrepreneur who's always on-the-go but loves receiving gifts, subscription boxes are an ideal choice. A monthly delivery of everything from beauty and lifestyle products to skincare items makes a great way to pamper yourself or show appreciation for someone special.
| Subscription Box | Description | Price Range |
| --- | --- | --- |
| Birchbox | Beauty & grooming samples tailored to your preferences each month. Includes deluxe size samples, travel sizes, and full-sized products. | $10-$20/monthly box subscription fee + shipping fees per item purchased |
| FabFitFun VIP Box | Receive 8+ full-size premium beauty, fashion, fitness, and wellness products seasonally (4 times/year). Also includes access to online workouts and recipes. | $49.99/seasonal box subscription fee + free US standard shipping |
| Stitch Fix Women's Clothing Subscription Boxes | Personalized styling service with 5 handpicked pieces delivered right to your door every 1, 2, or 3 months. Keep what you love and return the rest at no cost! | $20 styling fee plus cost of items kept |
With so many options available in subscription boxes today, there's something perfect for everyone – whether it be beauty products or clothing items – that will fit into any budget. Whether as a gift for yourself or another hardworking female entrepreneur in your life, these boxes make sure they stay connected while still being able to enjoy what they receive along their entrepreneurial journey. So go ahead – give them something that'll make both their heart AND wallet smile!
Gifts That Give Back To Celebrate Success
Celebrating success is a great way to recognize the hard work put in by female entrepreneurs. While office supplies and decorations can make their workspace more enjoyable, gifts that give back are even greater ways to honor their commitment and dedication.
One of the most meaningful presents for female business owners is donating to charities they care about on their behalf. Whether it's an organization dedicated to women's rights or one related to environmental sustainability, finding out which causes they support will show them you value their passions as much as their career progress. Alternatively, buying items from social enterprises where proceeds go towards humanitarian efforts is also an excellent option for ethical gifts with positive impacts.
Gifts such as these show how proud you are of female entrepreneurs while also helping others in need. It's a special reminder that success isn't just about reaching goals but being able to positively influence those around us too.
GIFT IDEAS FOR FEMALE ENTREPRENEURS
Unique Experiences As A Special Treat
We have all heard the phrase 'experiences over material possessions', but what does this mean in practice? Experiences can come in many forms and it is important to consider how we can use them most effectively. For female entrepreneurs, unique experiences are a great way to give something special that will be remembered for years to come.
| Unique Experiences | Benefits | Cost |
| --- | --- | --- |
| Wine Tasting Day | Relax & Enjoyment | Medium-High |
| Cooking Class | Learn New Skills | Low-Medium |
| Spa Treatment | Rejuvenation | High |
Unique experiences such as wine tasting days, cooking classes or spa treatments provide female entrepreneurs with the perfect opportunity to relax, learn new skills and rejuvenate themselves. They offer an escape from the pressures of everyday life and allow time for reflection and enjoyment. These experiences also provide lasting memories that may not be possible with physical gifts alone. The cost of these experiences varies depending on the experience chosen but they are generally affordable when compared to traditional presents.
A unique experience is sure to bring a smile to any female entrepreneur's face! It provides an opportunity for rest and relaxation while allowing her to explore something new or revisit favourite activities. There is no limit to what type of experience you can give – so think outside the box! Whether it's a day at a local vineyard or afternoon spent learning how to make sushi rolls – giving someone an unforgettable memory is truly priceless.
Self-Care Products To Support Wellness Goals
For female entrepreneurs, taking time for self-care is essential in order to maintain balance and productivity. Gifts that support this goal can be a great way to show appreciation. From aromatherapy diffusers to luxury bath bombs, there are plenty of options when it comes to pampering products. A subscription box with items tailored specifically to the recipient's interests can also make an excellent gift idea.
Journaling supplies such as high-quality pens or notebooks are another thoughtful present. Guided meditation CDs or apps featuring calming music and positive affirmations can also help promote relaxation and stress relief. For those looking for something more interactive, give them tools like adult coloring books or mandala kits – they're perfect activities while unwinding after a hard day's work!
GIFT IDEAS FOR FEMALE ENTREPRENEURS
Thoughtful Gestures To Show Appreciation
Thoughtful gestures are an excellent way to show support and appreciation for female entrepreneurs. A simple act of kindness can go a long way in showing someone how much they mean to you. Taking the time to send a handwritten card or gift is an especially meaningful gesture that shows thoughtfulness and care. You could also offer your help with tasks such as running errands, providing mentorship advice, or even helping with research projects. This not only demonstrates your genuine interest in their success but also gives them valuable assistance when they need it most.
For those who are looking for more creative ideas, consider gifting experiences that allow her to relax and unwind away from work-related stressors. A spa day, yoga class, cooking lesson – these thoughtful gifts can provide moments of joy while also giving her the opportunity to explore something new outside of her everyday life. Additionally, sending a thank you note after she has completed a major project or achieved a big milestone is always appreciated! Ultimately, small acts of kindness can make all the difference in expressing gratitude towards female entrepreneurs who put so much hard work into their pursuits every single day.
Ways To Support Her Home Business
A home business is like a garden, it needs constant nurturing and care to grow into something beautiful.
Supporting female entrepreneurs can be done in many ways, from providing moral support to offering practical help:
Moral Support:
Encouragement
Showing appreciation for her work
Confidence boosts
Practical Help:
Offering advice or feedback if asked
Connecting her with contacts that could benefit her business
Referring her website/social media/products to others who may find them useful
[/su_list]
It's incredibly important to make sure your friend knows they are supported by you. A simple 'I'm proud of what you're doing' can go a long way when running a home business. Even the smallest gesture such as liking their posts online helps spread awareness. By showing our support we not only remind female entrepreneurs that we're here for them but also encourage more people to embark on similar journeys. Taking part in this movement allows us all to become change-makers for gender equality in the workplace!
GIFTS FOR FEMALE ENTREPRENEURS
Final Thoughts
As a female entrepreneur, it can be difficult to find the perfect gift that expresses your appreciation. Whether you're looking for something practical or just want to show your support, there are plenty of great ideas out there. According to research by American Express, women-owned businesses are growing five times faster than all other business today. So when you're shopping for a special woman in your life who is an entrepreneur, remember that she has put a lot of hard work and dedication into her career and deserves recognition.
Think outside the box and get creative with gifts like unique experiences and self-care products that will truly make her feel appreciated. Show her how much you care and give her something meaningful that will help her continue succeeding in her professional life. And most importantly don't forget about the little things – thoughtful gestures such as handwritten cards or flowers can go a long way in making someone feel valued!
No matter what kind of present you choose, any female entrepreneur would be thrilled to receive a token of encouragement from someone they admire. With so many amazing options available, finding the right gift won't be too hard – just think about what she might need or appreciate most to help keep up with her entrepreneurial pursuits.
Hi, I'm Claire Bullerwell
I've ran dozens of home-based businesses, both offline and online, since my early twenties. I started this blog to share all my wealth of knowledge and experience to help women like you find your dream home business; a one which will help reach your income goals and live your best life.