Online Tools By Business Categories
Are you running an online or small business but don't seem to be in complete control of it?
If so, you can easily, and quickly, become in control of your business with the help of the right tools which will help streamline your daily operations, keep track of your finances, and communicate effectively with your customers or clients.
Get organized by checking out my
Business Management Kit
which comprises of 42 printable worksheets which cover all four areas of a small business.
I know from first-hand experience that running any type of home business needs careful daily planning and management.
The first thing you need to be aware of is that all small businesses are divided into four different areas.
And so I thought it would be super handy for you to look at all the online tools under each business area.
Tools Divided Into Business Areas:
Administration & Organization
Planning & Management
Marketing
Finance
So let's dive straight in.
TOOLS FOR SMALL BUSINESS OWNERS
Administration & Organization
These tools are to help you with your daily and weekly administrative tasks and the daily organization of your small business.
1) Google Workspace: Google Workspace (formerly G Suite) offers a suite of productivity and collaboration tools, including Gmail, Google Calendar, Google Drive, and Google Sheets.
These tools help you manage your email, schedule appointments, create and share documents.
2) LastPass: LastPass is a password manager that securely stores your login credentials for all your online accounts. It saves you time and protects your sensitive information.
3) Evernote: Evernote is a note-taking and organization app that helps you capture, organize, and share your ideas. It syncs across devices, making it easy to access your notes and documents anytime, anywhere.
4) Calendly: Calendly is a user-friendly online scheduling tool that streamlines appointment bookings for professionals and businesses. By syncing with your calendar, Calendly offers available time slots to clients or colleagues, who can then schedule meetings without back-and-forth emails. Customizable meeting types, duration settings, and reminders ensure a seamless and efficient scheduling experience.
5) Dropbox: Dropbox is a cloud-based file storage and sharing platform, enabling users to securely store, access, and share files across devices. Its intuitive interface and collaboration features, like real-time editing and version history, make it ideal for teams and individuals alike. Dropbox ensures data security with encryption and backup options.
6) Zoho: Zoho CRM is a cloud-based Customer Relationship Management solution that helps small businesses manage their client database efficiently. It offers features like contact management, lead tracking, sales pipeline management, and automation of routine tasks.
TOOLS FOR SMALL BUSINESS OWNERS
Planning & Management
These tools can help with the planning and management of your business, especially if you have a team or a virtual assistant.
7) Trello: Trello is a visual project management tool that allows you to create boards, lists, and cards for organizing your tasks. It is perfect for keeping track of your business' daily operations and collaborating with team members.
8) Asana: Asana is another a powerful task and project management tool, but it's not as visual as Trello. They are both very similar in concept, but Trello is much more visual than Asana. So it will be a personal choice as to which one you choose as to how much of a lists visual person you are.
You can take them both for a test run with their free trials and see which one you like the best.
9) Loom: Loom is a free video recording and sharing Chrome extension that allows users to capture and share their screen, webcam, and microphone. It can be used for creating tutorials, product demos, and remote work communications. Loom also offers editing and sharing features, as well as team collaboration tools.
10) Zoom: Zoom is a popular video conferencing tool that allows you to host virtual meetings, webinars, and conference calls.
It is an excellent solution for running an online business from abroad or collaborating with remote team members.
11) SB Management Kit: This is my own small business management kit which I personally created and use myself. It's a comprehensive resource designed specifically for women entrepreneurs.
It includes templates, checklists, and guides to help you stay organized and focused on growing your business.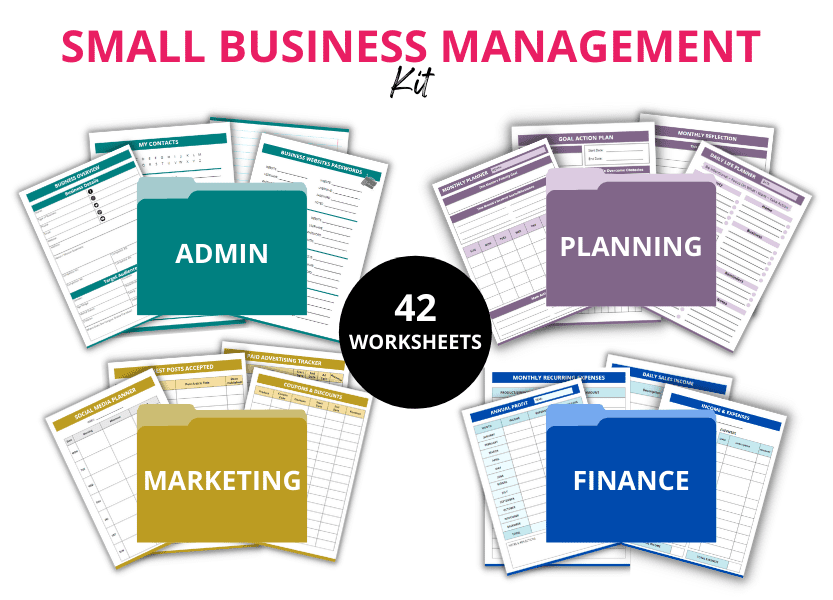 TOOLS FOR SMALL BUSINESS OWNERS
Marketing
We all need to market our small business, so here are some tools to help you market your business and also manage your marketing tasks.
12) MailerLite: MailerLite is an email marketing platform that helps you create and manage email campaigns, build your mailing list, and analyze the results.
Learn more about understanding email marketing to make the most of this tool.
Please note, if you're running an
ecommerce store
, then you might want to look at MailChimp.
MailChimp
seems to be adding more functions to help store owners combine their store with email marketing.
13) Buffer: Buffer is a social media management tool that allows you to schedule and publish your posts across multiple platforms.
With its analytics feature, you can track your performance and optimize your social media strategy.
14) Canva: I love Canva! Canva is a user-friendly graphic design tool that enables you to create visually appealing content for your business, including social media posts, presentations, and marketing materials.
I use Canva on a daily basis to get images for my blog posts and to make Pin images – among other things.
15) Keysearch: This is a fantastic SEO tool to help you to pick the best keyword phrases for your website or blog. SEO is when you optimize your website to get found in the search engines where you can potentially get thousands of free, organic visitors to your website each month.
Give
Keysearch
a try for FREE for 30 days. Then use
discount code KSDISC
at the checkout for 20% off any subscription plan.
Related Reading: SEO For Female Entrepreneurs
Finance
And lastly, you'll need to keep your business finances in order.
16) Income & Expenses Spreadshseet: I created this spreadsheet, and it's a done-for-you, formula-populated spreadsheet so you can easily keep track of your income & expenses in your business. It will also give you a year-end profit and loss statement.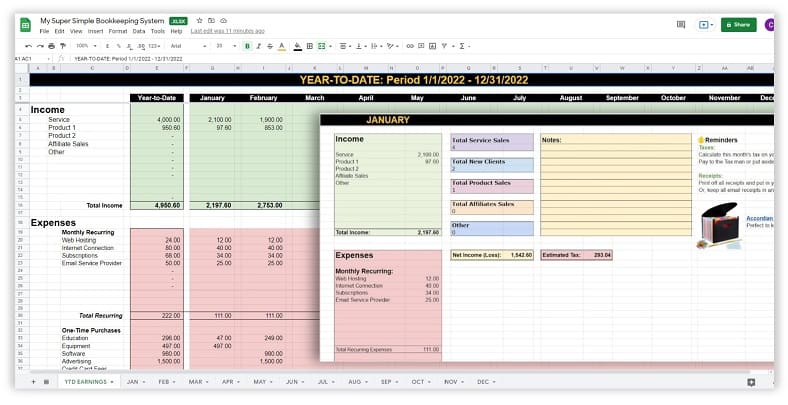 17) Income & Expenses Log Book: If you don't like spreadsheets and like to do things manually, then you'll love my printable, 12 months Income & Expenses Log Book. It consists of 112 A4 pages which are divided into months. This log book also gives you a year-end profit and loss statement.
18) Quickbooks: Quickbooks streamlines invoicing, expense tracking, payroll processing, and tax preparation. You will be able to generate reports, manage cash flow, and connect bank accounts for real-time updates. It's available on desktop and cloud-based versions.
19) Wave: Wave is a free, cloud-based accounting software tailored for small businesses and freelancers. It offers features like invoicing, expense tracking, and receipt scanning. Users can connect bank accounts for automatic transaction updates, generate reports, and access payroll services for a fee.
20) Freshbooks: Freshbooks is very similar to the above two accounting software applications. It's designed with freelancers and small business owners in mind.
I've not actually used Quickbooks or Freshbooks myself, but I have seen conversations in Facebook groups that there is quite a steep learning curve with these two applications.
Give them a free try and if they're still too technical and complicated, then consider just completing your spreadsheet or log-book and then handing these over to a bookkeeper or accountant.
Your Home Office
In addition to these online tools, you should also consider setting up a dedicated workspace in your home.
By leveraging these tools and resources, you can stay organized, communicate effectively, and grow your home-based business with ease.
Remember to continuously learn and adapt to new technologies to stay ahead of the competition and make your dream business a reality.
Hi, I'm Claire Bullerwell
I've ran dozens of home-based businesses, both offline and online, since my early twenties. I started this blog to share all my wealth of knowledge and experience to help women like you find your dream home business; a one which will help reach your income goals and live your best life.