I must admit, it's quite a steep learning curve to learn how to do email marketing.
There are so many different aspects of it, it really can get confusing.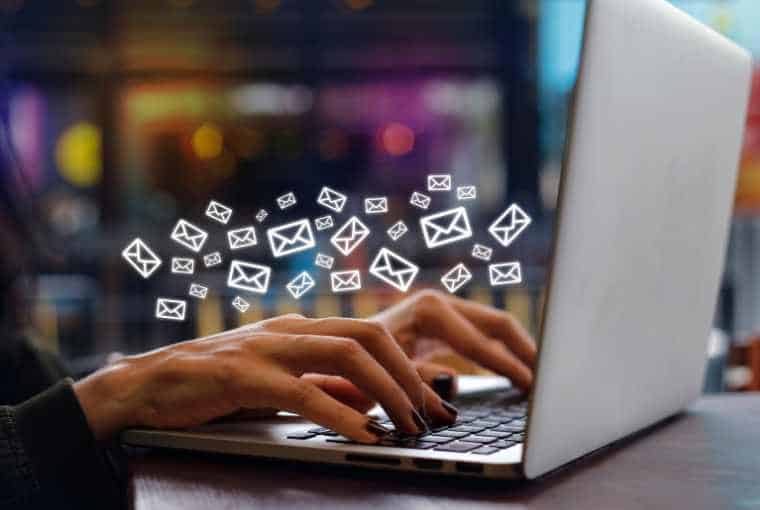 I'm sure you know how important it is to grow and build an email list of your very own no matter what type of Online business you run… don't you?
I mean, what would you do if Facebook closed down tomorrow? Or Pinterest? Instagram?
These are all third-party platforms where you have absolutely no control over their existence or how they conduct business, so why would you rely 100% on them to speak to your potential clients or customers?
So if you haven't started your email list yet, or you're not actively growing it, and the main reason is because you don't quite understand the technical side of list building, then I hope this post can help answer some of your concerns and point you in the right direction when learning how to do email marketing.
1) Finding The Perfect Email Service Provider
The first thing you need to do is to find the best email service provider for you. There are lots of different ones to choose from and they do vary in price and functionality depending on what type of business you run and how you want to run your email marketing campaigns.
For example, a while back I signed up to MailChimp to give it a whirl (because its free until your first 1,000 subscribers), but I personally found it quite complicated. The reason I found it complicated is because they are trying to cater to ALL types of Online businesses. They have quite heavy functionality for ecommerce stores such as Shopify, so this is great if you run an ecommerce shop, but annoying and complicated if you don't.
Mailchimp is popular among ecommerce stores.
I then signed up to ConvertKit and I was with them for a while, but it is quite expensive.
When the GDPR Law came into practice on May 25th 2018, I decided to streamline my business and email lists. So I retired two of my older websites and deleted the email lists of each one. This means I now only have one website to focus on (this one you're reading) and started to grow a new email list.
So because I was starting from scratch again, I couldn't justify paying the $29 per month ConvertKit bill. So I tried Mailerlite on the recommendations I saw in Facebook groups – and I love it!  I wasn't expecting to like MailerLite because it's free until you get your first 1,000 email subscribers, and so I thought it would have limitations.
But it doesn't.
I love MailerLite and it's free for up to 1,000 subscribers.
It has automation and the ability to segment your email subscribers into different groups so you can target them with more tailored emails. These are the two functions which I wanted the most, they do a lot more than that (see below) but I wanted to try and keep things simple, at least at the beginning anyway.
So in order to keep things simple,
here's what I would recommend:
eCommerce: If you run an ecommerce store – try MailChimp
SoloPreneur: If you blog or run a service-based business and you're a solopreneur – then try Mailerlite.
Landing Pages: If you don't want to create your own optin landing page, then Mailerlite also has the functionality for you to select from one of many pre-made landing page templates or use their drag & drop editor to customize the templates exactly to your liking.
Marketer: If you want lots of lead magnets to attract different segments of your target audience and want to send out different emails to each segment, then ConvertKit or ActiveCampaign might be your best option.
There are many more email service providers, so if you don't want to use any of the ones I've mentioned above, then obviously feel free to do your own research.
2) One List, Separate Lists, Tagging, Segmentation…
Things have progressed a lot recently when it comes to email marketing. Years ago I started out using Aweber, and I was with them for years. But I left them because they 'weren't keeping up with the times' so to speak. At the time they did have the function to create landing pages and you had to create separate lists for each subscriber segment (I think they do offer those things now).
However, with service providers such as Mailerlite, ConvertKit, ActiveCampaign, etc., you just have ONE email list, but you have the ability to 'tag' them or group them into different segments based on their actions. This makes it much more easier to send more personalized emails and automated follow-ups.
Try and keep things simple, don't over-complicate them
This is when things do start to get more complicated because it is quite an advanced marketing method. ConvertKit is heavily based on this, as I believe ActiveCampaign are too, but I wanted to keep things as simple and straight-forward as possible which is why I'm not bothering with this advanced 'tagging' at the moment.
What Does Tagging Do?
You have your email list – say 100 people. You now want to send an email to people who would be interested to join your new membership club. Not everyone of those 100 subscribers will be interested, so you only want to send emails to the ones that are.
So you would write an email and put a link in the email to a page talking about your new membership. This link (inside of your email you're just about to send out) has a special code in it, and when someone does click on that link to find out more information on your membership club, they are now 'tagged' as an interested subscriber.
So you can then select these 'tagged' subscribers and send them more emails (either automated or broadcasts) about your membership club.
You still have one email list (100 people), but now 40 people are tagged as interested in joining your membership. You can do this for multiple things and you can create multiple automated email sequences to streamline your marketing messages.
It can get complicated, so don't worry about this if you're just starting out. I'm not new to email marketing but at this present moment, I'm keeping things simple and don't use or need this function which is why I moved to the free Mailerlite provider.
Mailerlite easily lets you 'group' your subscribers into different segments for different optin forms and have much more advanced options of tagging and segmenting – even on it's free version.
Again, if you don't understand any of that then don't worry about it. You don't need it, especially when you're just starting to create and build-up your email list.
3) Understanding Automation v Broadcast
The last email marketing technical element I want to talk about is the difference between sending a broadcast and automated email sequences.
Broadcast = Time-sensitive, one-off content email
You sit down and write your email. You choose which list or segment you want to receive the email and you either send it straight away or schedule it to be sent on a certain time and day.
These tend to be sent out on a weekly basis if you're writing a weekly newsletter for your readers, for example. It's a one-off broadcast which you have to send out manually each time. It won't be re-broadcast unless you manually set it up again to go out.
This is a screenshot inside my Mailerlite account and as you can see these one-off emails are not called Broadcasts but are called Campaigns.
Even though they are one-off emails, you can actually schedule them to go out at a specific time on any specific day.
So for example, you would write your weekly newsletter; say on Friday to get it done and out of the way, and then you would schedule it to go out at 10.00am on Monday morning.  This is a brilliant function because you have peace of mind knowing that you have your weekly newsletter all done and set up to go out leaving you free to move onto other tasks instead of looking at the clock to send it out at your regular time-slot.
Automated Sequence = Evergreen, passive & automated
I absolutely love automation! You're running some kind of Online business (or you wouldn't be reading this page), so why not automate some parts of your business?
One fantastic automation process are the automated email sequences.
You write and set these emails up once and schedule them to go out on certain days apart. The software (your email service provider) will automatically send these emails out to people for you, based on your sequence of emails.
A person will subscribe and the software will send the emails, i.e. follow-up, with the subscriber automatically. So you might write seven emails and set them up to go out over a 2-3 week time-period, and your email provider will automatically do this for you. Once the emails are written and set up to go out on certain days apart, you're job is done. ConvertKit, Mailerlite etc., will take over and do the automation for you.
Here's a screenshot of the steps of an automated 'email work flow' inside of Mailerlite.
So here you would :
Choose which group/segment would receive these emails then…
Pick 'Email' and write your email.
Next, you would pick 'Delay' and choose three days, for example.
Then you would Click 'Email' again and write your second email (which automatically goes out three days after your first email.
And so on.
Any person can join your sequence of emails at any point in time and go through this follow-up sequence independently. So they're not getting a broadcast message which everyone receives at the same time, a follow-up sequence is a unique experience to that individual subscriber at any given time.
How cool is that!
Summary
So I hope you're a little clearer on some of the technical aspects of email marketing and setting up your email list. You can always start with a free service such as Mailerlite and when you do get more confident and advanced in your email marketing, you can easily switch over to a more robust service provider such as ConvertKit or ActiveCampaign. To do this you save your subscribers into a cvs file and re-upload it into your new provider.
UPDATE: I now believe MailerLite has all the same functions as both ConvertKit and ActiveCampaign – it's just cheaper!
Having an automated email sequence is the ideal way to pre-sell and then sell your coaching, services or digital products.  As once it's set-up, you have a passive selling 'sales funnel' working for you 24/7 in the background.
Hi, I'm Claire Bullerwell
I've ran dozens of home-based businesses, both offline and online, since my early twenties. I started this blog to share all my wealth of knowledge and experience to help women just like you; to find your dream home business. Fill that empty nest, work around your menopause and just live your best life at 50 something!
Follow me and let's get acquainted…