Online and Offline Business Ideas
So you're wanting to start a small business from home, but at this stage you literally don't have any idea as to what type of business to start.
Choosing the best home business idea for you is crucial as to whether you will be successful or not.
In this guide, I have laid out the best home business ideas for women (both offline and online) no matter what your age is, what your life circumstances are and what you like and dislike.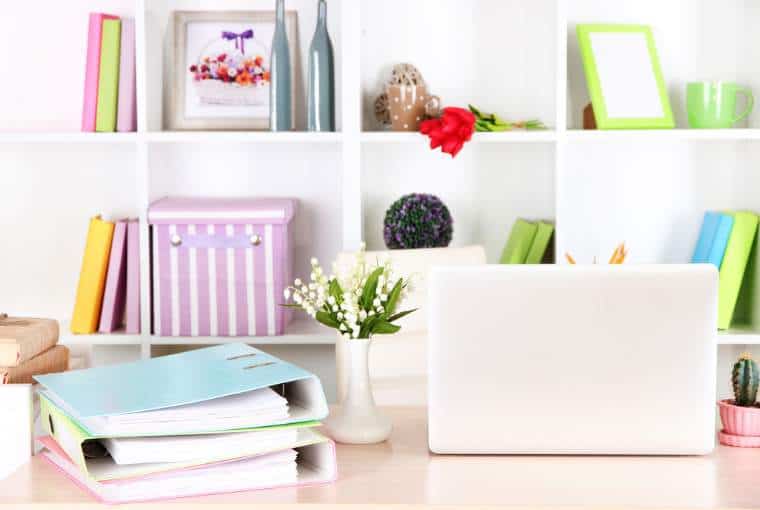 This article is in two parts:
Part One: 47 Best Business Ideas for Women At Home
Part Two: Frequently Asked Questions


I see so many women (me included) that have started yet another new home business because the original one didn't work out for them. So wouldn't it be much easier, more cost-effective, and much less stressful, to find and start a home business which you enjoy, and a one which will have the best chance of success, from the onset?
I can say this because there are so many different business models to choose from, that there is bound to be a one for you.
BUT – how do you:
We'll start with my top 47 home business ideas for women, and then we'll take a look at some frequently asked questions:

My Top 47 Home Business Ideas for Women

This list is in no particular order, but I've tried to list them as to how popular they are.
1. Proofreader
Online Business
Do you have a good grasp of the English language? And more importantly, do you have excellent knowledge with punctuation and grammar?
What Is It?
Ideally it would be beneficial to have a Degree in English Language, but you can also offer proofreading services if you sincerely have a good grasp of the English language.
Basically, you will become a self-employed freelance proofreader and you have to go out and find proofreading jobs. These jobs can easily be found online on freelancing website such as www.fiverr.com.
This is actually a really good business or side-gig for teachers, or ex teachers. But of course, anyone can do this as long as your spelling and grammar is up to par.
Income Potential
Proofreading writing can be very lucrative. This is especially true if you have a Degree in English because you can demand higher rates because of your professional qualification.
2. Freelance Writing
Online Business
Freelance writing is a very popular home business, especially with women.
So if you have a very good grasp of English, spelling and grammar, then you can certainly make a very good living simply by writing.
What Is It?
You would be a self-employed freelance writer where you would look online for freelance writing jobs.
Whilst there are already thousands upon thousands of freelance writers, there's always room for more because they are so in demand. And whilst there are many freelance writers out there, a lot of them are very mediocre writers, so if you have excellent writing skills, along with a creative mind and being able to do some basic research, then you can easily be a stand out and in demand freelance writer.
Income Potential
You can easily command a price of $300 for an article length of 2,000 words.
Many freelance writers also work with clients on monthly retainers. A monthly retainer is where you have an agreement and a contract with the client where you as the writer would write and produce, say 4 articles a month, for a monthly retainer fee of $1,200.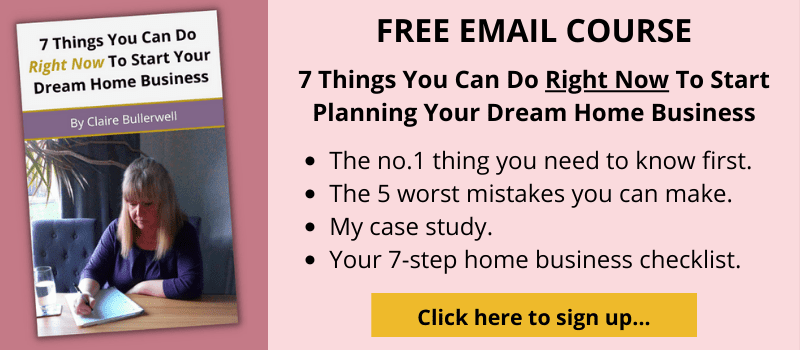 HOME BUSINESS IDEAS FOR WOMEN
3. Become A Virtual Assistant
Online Business
If you have previous experience of secretarial, clerical or administrative work, then this is the ideal opportunity for you. The Internet and digital technology era are making more and more home-based entrepreneurs and Internet small businesses who are looking for clerical support on a virtual nature.
What Is it?
Office-based clerical and secretarial positions are now being replaced with virtual assistants (VA's) within the small businesses and sole-entrepreneurs. The reason being is that it is much cheaper for the business owner to hire a virtual assistant than employing and housing a permanent (or even temporary) member of staff.
Potential Income
This is really hard to say as the rates of pay structure can vary depending on what type of service you offer. However, for example's sake, you could earn between $15.00 – $25.00 an hour.
More Information
If this is something that you are interested in then you need to write down the skills that you have (typing, powerpoint, general admin etc.) and then target the potential customers who would need your skills.
So for example, if you can answer emails and organize Online events, then you should target online entrepreneurs who would require these services.
4. Blogging
Online Business
Do you love to write and have a subject matter which you would like to share with others?
What Is It?
From the onset, you have to get into the right mindset that your blog is your business model. It's not a hobby blog where you write a little blog post here and there, you have to treat your blog as a business – because it is.
Blogging is a lot of initial hard work, but once you have a few exceptional blog posts and a solid digital marketing strategy in place, then you can earn passive income from your blog with a variety of monetization methods e.g. digital products and promoting affiliate products.
Income Potential
Just like earning passive income with digital products, the earning potential is unlimited with blogging.
I know many bloggers who earn $2,000-$5,000 a month, and there are many bloggers who earn upwards of $10,000 a month.
HOME BUSINESS IDEAS FOR WOMEN
5. Email Customer Service Agent
Online Business
This one is for the moms/mums who can only work one or two hours a day while your little ones are having their daytime-nap.
Have you heard of the phrase 'if it sounds too good to be be true then it probably is' Well, this phrase isn't true or relevant any more – you literally can make at least a part-time income from working only a few hours a week from home on the Internet.
What Is it?
There are many online entrepreneurs who sell products and need a support help desk to answer email queries. These online business owners don't have time to answer the emails so they hire somebody else to do it.
This is where you would come in. You would log-in to the HelpDesk software and simply answer emails.
Potential Income
This depends on the business owner, but you could expect to get paid anywhere from $10.00 – $20.00 per hour.
Some business owners like to pay their staff per email (50p earned for each email query).
Further Information
I did this job from May 2011 to June 2012 and literally only worked 'on average' 7-8 hours a week.
If you're good at this, then the online entrepreneur may give you other 'admin' jobs to do as well.
6. Typing From Home
Online Business
No typing from home scams here! What I'm talking about is starting your own typing business from home. This is a great opportunity for all you typists out there.
What Is It?
You're not relying on others to get typing from home jobs. You're creating your own typing from home business working the hours that you want to work and earn the income you want to earn!
You don't even need to be a super-fast typist either. As long as you can reach deadlines, then you can offer this service.
Potential Income
You can earn in excess of $1,900/£1,200 per month. There are different pay structures for different types of typing work, but they all earn a good hourly rate.
Further Information
I've ran my own typing business on two separate occasions. The first time was tar targeting offline business and clients, then a few years later, I started up again and targeted online work.
I honestly would advise to take matters into your own hands (to avoid scams) is to start your own freelance typing business.
HOME BUSINESS IDEAS FOR WOMEN
7. House Cleaning
Offline Business
Wherever there's dust, there's money to be made. Anyone can run a house cleaning business as there are no special qualifications or skills needed. You just need an eye for 'attention to detail' to make sure you do a very good clean!
What Is It?
This business requires very little start-up capital, all you need is a few cleaning products and you're on your way. You don't necessarily need a car (although this helps enormously), but you would need to be very specific in what areas you clean as to cut down on travelling time.
This is a great business idea for housewives / home makers as you can start to profit from house cleaning!
Potential Income
If you do lots of advertising and are prepared to work a full week, you could earn $450/£300 a week. However this business is very flexible and you will find that customers tend to want the same slots each week or bi-weekly. This means that you can plan your cleans to allow you to work on a part-time basis if you so wish.
More information
There's not a great lot of preparation that needs to go into the setting-up of this business, but there is a few things which you need to know in order to run a professional and profitable house cleaning business.
8. Home Based Jewelry
Offline Business
Make your own jewelry and sell it at craft fairs, party's or Online. This is a good little side-business if you are into crafts so you can enjoy your hobby but earn from it at the same time.
What Is It?
Learn how to make your own jewelry, find good wholesalers with a big variety of jewelry make equipment and learn how to sell it to a mass audience.
Income Potential
I cannot put a figure on here as there are too many variances, but I do know that you can earn at least a part-time income this from. If you put a lot of effort and time into it, then earning a full-time income is very doable too.
9. Home Based Cake Decorating
Offline Business
Do you love baking cakes, and love decorating them even more?
Women tend to start to decorate their cakes for fun and and then decorate cakes for family members, for birthdays and anniversary's etc.
What Is It?
You enjoy decorating cakes, you have a talent for it and now you're thinking of making this hobby into a business, whether that be a sideline or a full-time business.
Income Potential
This business can be time-consuming so it depends on how many cakes you make per week and how much you charge for them. But if you enjoy this as a hobby then it's a great little earner.
Further Information
This business model is definitely on the 'up' as creatively decorated cakes are definitely in demand, especially among moms who want them for their children's birthday parties.
BUSINESS IDEAS FOR WOMEN AT HOME
10. Home Based Day Care
Offline Business
If you love children and have a calm temperament, then get paid for looking after little ones.
What Is It?
A day care in your home may be a great way for you to start a home based business. In this business, you will be caring for children of your clients. This includes playing with them, keeping them safe, and sometimes offering a bit of education, too. This type of business can be very successful if you love children and are passionate about caring for them.
There are some very strict laws in place regarding this type of business, so you will need to do some additional local research before getting started.
Income Potential
The hourly rates varies depending on which country you live in, which area and and and in what state (if in US), but you can expect to charge anywhere from $15-$30 per hour.
11. Bookkeeping
Offline & Online Business
Do you have a qualification in bookkeeping? Do you do this as your main job?
What Is It?
You can start by doing bookkeeping as a side hustle around your main job and then when you've saved enough money and have a backlog of potential clients, then you can take the leap to do this as a full-time business.
With many more people starting home based and small businesses there's always a demand for both a local and virtual bookkeeper.
Income Potential
Bookkeepers tend to charge between $35-$55 per hour.
12. Wedding Planning
Offline Business
you just love all things weddings? Are you great at organizing events with confidence and have attention to detail?
What Is It?
As a bridal consultant / wedding planner you will help with locating venues for the wedding and reception. You will help find entertainment, photographers, wedding attire, and transportation. The job of a consultant is often multifaceted, for example, you will need to work with the bride and groom to make decisions while keeping the wedding within budget.
As a bridal consultant you must spend a lot of time ensuring that tasks have been completed, which is why organization is so important.
Income Potential
Taking into consideration that there is a lot of work involved and that the stakes are high (bridezilla's), you can expect to charge in the region of $1,500 per wedding. However, some wedding planners charge a lot more, say $3,000+ per wedding, depending on who their clientele are.
BUSINESS IDEAS FOR WOMEN AT HOME
13. Virtual Tutoring
Online Business
This is an excellent extra source of income for teachers, retired teachers, mom teachers on maternity leave, postgraduate students, or anybody with a Degree.
What Is It?
Thanks to the Internet and the advancement of online learning resources, virtual tutoring has took a dramatic upturn.
There are many websites now which provide a platform for online tutors to register and marketing their services. An example of such a website is https://www.tutorhunt.com/
You would obviously provide tutoring in a subject matter which you have a qualification in and are qualified to teach.
Income Potential
Not everyone is qualified for this position, but for those who are, the options can be endless.
Home tutors can charge anywhere between $20 and $80 per hour depending on the type of  subject matter they teach. For example, you would charge more for very specialist and in-depth subjects.
14. Voice Over Artist
Online Business
Do you have a voice that stands out from others? Do you feel as if you could use this natural talent to make you money and even into a full blown business?
What Is It?
Also known as a voice actor, is a freelance side hustle where you would become an auditory performer.
Voice actors are in demand for TV commercials, radio, video games, e-learning courses, apps, audio books and online videos.
Income Potential
Normally a voice artist would get paid per individual job and the income potential can be huge.
You can do a quick voice over job for $20 and can potentially earn hundreds of dollars just for an hours work.
15. Travel Agent
Online Business
Do you love to travel and enjoy all the research, organization and booking that comes with it?
What Is It?
A freelance home-based travel agent, also known as a Personal Travel Consultant, is where you would book and arrange travel for a variety of clients.
Not everyone enjoys the research and booking aspect of going on holiday or on a trip of a lifetime, and so a lot of people are more than happy to pay someone else to do this for them.
Income Potential
As an independent travel agent you would earn money on a commission basis. So each time a client books a holiday with you, you earn a commission.
So when you book a flight, a cruise or a holiday, you would earn the commission from the travel supplier.
BUSINESS IDEAS FOR WOMEN AT HOME
16. Dog Walking
Offline Business
Do you love dogs? Do you like to go out for walks?
Why not combine the two and get paid for it!
What Is It?
Dog walking has become very popular over recent years. This is mainly due to the fact that people who would not normally buy a dog, because they go out to work, are now buying dogs because they know they can hire a dog walker.
Income Potential
Dog walkers can charge per dog walk, per 30 minutes or per 1 hour walks.
This can range from $10-$20 per walk, $20-$30 per 30 minutes and $30-$50 per hour.
17. Creating & Selling Digital Products
Online Business
Fancy earning passive income with little digital products?
What Is It?
Digital products are the currency online when it comes to sharing information. Apart from blog posts, you read and learn from digital products such as PDF ebooks, printables, online courses and membership sites.
And the great news is that creating digital products is no where near as complicated as you might initially think. For example, to create and sell an ebook, it's simply the case of typing your information into Word or the free Google docs, saving it as a PDF document and then using a digital delivery service such as SendOwl to automate the delivery of your ebook.
Income Potential
The income from selling digital products is unlimited!
You create the digital product once, and then you can sell it 24/7 for months and even years ahead.
More Business Ideas For Women
Still not found a home business which you think you might enjoy?
Here are some more home business ideas…

FREQUENTLY ASKED QUESTIONS

Q. What's The Difference Between a Small Business v Home Business
I know that some people might think that there is no difference between a small business and a home business, but for the sake of this article I'm going to say there is.
Because there are so many types of businesses out there now to choose from, we have to try and differentiate and put them into some sort of categories in order to make it easier for us to choose from.
So from this point of view, this is how I would separate a small business from a home-based business.
Small Business
A small business is where you run a business with five or less employees and this business is run out of a small outlet or rented accommodation.
A small business could also just be you as a sole-trader, but you have to travel to your office or small shop.
Examples of small businesses:
BUSINESS IDEAS FOR WOMEN AT HOME
Home-Based Business
A home-based business on the other hand is… well… exactly what it says on the tin! A business where you are based at home.
But I do want to point out here that you don't actually have to work at home to be classed as running a home-based business – remember, this is just my own personal point of view of how the different types of businesses are categorized and classed.
So yes, you don't have to work from home all day long to earn your income, because you can literally just be home-based.
Examples of work-from home businesses:
So here are some examples of businesses you would literally run from your own home.
Examples of home-based businesses:
You don't earn your money by working from inside your home, but you also don't rent office space – your 'base' is literally your home.
Q. What Are The Best Businesses for Women To Start?
Of course this is a difficult question to answer as I'm sure you will appreciate because it's literally asking the same kind of question such as 'how long is a piece of string?'
Because all women are so diverse and different that it's really difficult to put a list of home business here to suite everyone – one size does not fit all.
What I would say is that you really need to dig deep and find the answers to these questions:
All of these questions have a bearing on what type of home business to choose.
Q. What Are The Easiest Businesses To Start?
The easiest businesses to start are ones which you already have great experience and knowledge in. It sounds pretty obvious when reading this out loud, but you would be surprised at how many people start a home business where they have no prior experience or knowledge of it.
You also have to take into consideration any start-up costs and if there are many steep learning curves.
I know a lot of people who are now making money blogging and they all started their blog with no previous experience or knowledge in blogging. Yes, they blogged about a subject they knew and were maybe passionate about, but the learning curve for blogging is very, very steep.
Therefore, this makes blogging not the easiest business to start.
In a contrast example, I'm a trained typist and I used to be a (very fast) copy and transcription typist. So it made sense for me to start my own Typing Service business from home. I already had the experience and knowledge, I just needed to do some advertising and before I knew it I had three new clients.
So ask yourself the question 'What experience and knowledge do I already have that I can turn into a business?'
This doesn't have to be work related either, it can be a hobby or interest:
You also don't have to have a qualification in something either where you've had to attend College or University.
So do you see that when you dig deep and categorize the different types of businesses, some will automatically 'pop' out to you and will become a strong contender?
Q. What Are The Best Low-Cost Businesses to Start?
This is the great news when it comes to starting a home-based business – the start-up and overhead costs are extremely low – especially when you consider how much it costs to start a small business in a rented outlet or shop.
If you're offering a service, which most home-based businesses do, then you need minimal or no stock at all.
For example, you can start a house cleaning business with zero start-up costs.
How?
If you start an independent cleaning business, then all you would do is:
The only money you would need is for petrol or transport fares to get to your house cleans.
The same goes for a dog walking business or a bookkeeping business – you either need no inventory at all, or you would have it already.
Think what you could offer as a service which requires non, or minimal start-up costs?
So now you know that you need to do a self-evaluation to find out what type of business would suit you, and then categorize all the home businesses so you can rule out some, and look more deeply into those businesses which match your self-evaluation.
BUSINESS IDEAS FOR WOMEN AT HOME
What Next?
If you need more help in finding your dream home business, then you might be interested in this Home Business Roadmap eBook.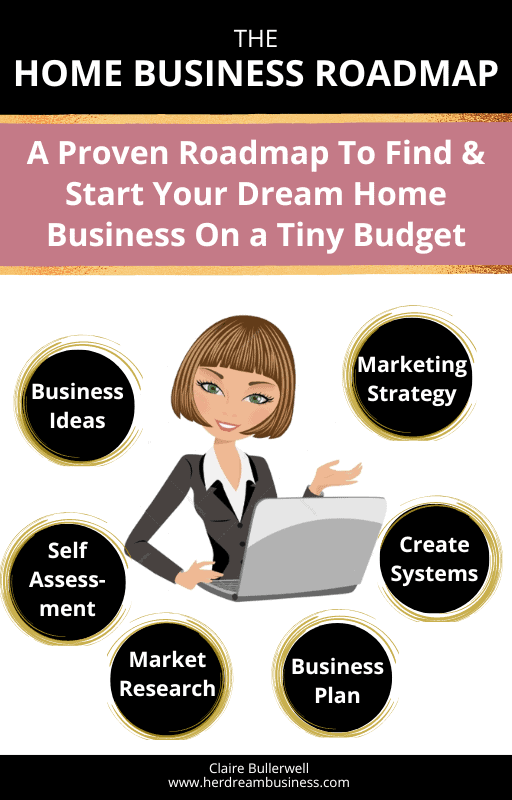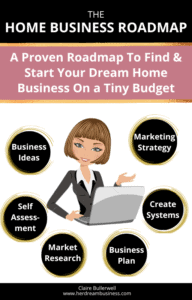 It categorizes 70+ home business ideas so you can easily see which types of businesses you're drawn too, and then the second part consists of a self-assessment followed by four other exercises and worksheets.
When you've worked through this section of the workbook, you should have identified your dream home business.
But the book is sooo much more than finding your dream home business. It then goes on to show you the very next steps to take once you've found your ideal business idea.