Plus, how to get offline typing jobs too…
Do you want to work from home typing, but are finding it difficult to secure any long-term legitimate typing jobs?
I hear you, because that was me a few years ago.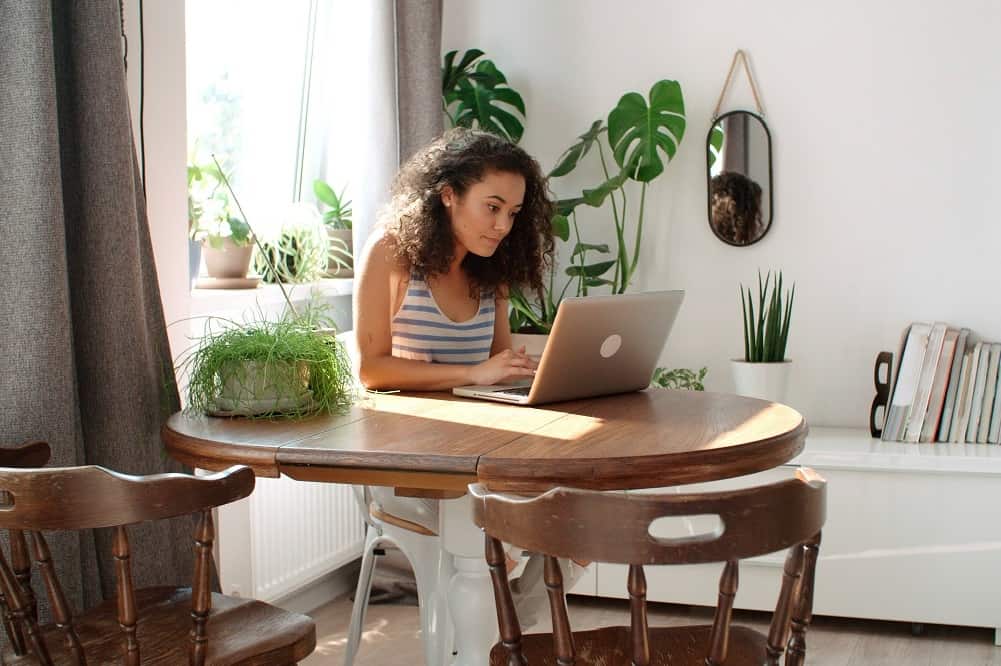 There are so many scams out there when it comes to data entry and typing jobs that it's not only very frustrating, but it's also a big waste of time too.
Claire says:
I'm a trained speed typist and I was also tired of all the typing from home scams too, which is why I set up my own freelance typing from home business where I made $1,200+ per month choosing jobs which I enjoyed and was good at.
I'll tell you about that in a minute.
So it's my intention to show you how to get legitimate typing work from home but without being scammed!
First of all, you need to understand the different types of typing jobs there are out there. Once you're aware of the different types, then you can easily disregard the ones you're not interested in and do more research on the ones which you think are a good fit for you.
This is how you save time, and your sanity, when looking for the best typing jobs from home.
Data Entry Jobs From Home
Let's start off with the most popular; and that's data entry.
What Is It?
Data entry is when you enter information into a database. Normally the data which you enter are names, addresses and other bits of data.
How Much Do They Pay?
This tends to be low paid work because it is fairly easy and pretty straight forward.
You can expect to earn anywhere from $3.00-$8.00 per hour?????
Is It Worth It?
In my opinion no, for various reasons:
1. Boring Work: This work is sooo boring and depressing. Imagine spending around five hours per day putting some boring data into little database boxes!
2. Low Pay: The hourly rate is very low. It might be OK in some countries, but it doesn't pay enough in the Western world.
3. High Competition: If the hourly rate is fairly decent, then there is a ton of competition for those jobs. Remember, there is world-wide applicants!
4. Getting Scammed: There are many positions who ask their 'candidates' to buy software, or to pay for upfront training, or to just pay a 'registration fee'.
Legitimate typing jobs from reputable companies, or individual entrepreneurs, will not ask you to pay an upfront fee.
If they do ask for money up front, this is a clear warning sign that it's a glorified scam praying on hopeful applicants.
You Should
Never

Have to Pay an Upfront Investment!

#
Paid Survey's
The second most popular typing from home jobs are paid survey's.
What Is It?
There are lots of market research companies out there that need information on behalf of other companies so they can tailor their products and marketing to target their customers better.
These market research companies set up websites where you would register for free and then you get paid to fill in surveys.
How Much Do They Pay?
Again, this tends to be low paid work because it is fairly easy and pretty straight forward.
You can expect to earn anywhere from $5.00-$10.00 per hour.
Is It Worth It?
In my opinion no, for these reasons:
1. You Might Not Qualify: For some survey's your demographics or characteristics may not fit in with the consumer profile they are after. In most instances, you only find this out when you are half way through the survey and will have to abandon it. What a waste of time!
2. Long Surveys: Some of the survey's are very long. You could spend up to an hour doing a survey only to find out that you were paid $2 for that survey.
3. Minimum Threshold Payouts: Normally you have to hit a minimum threshold for a payout. For example, a particular survey site will only pay you when you have reached their $20 minimum threshold. If you're only getting $2-$3 per survey, then it could take you weeks for you to get your $20.
Whatever way you look at it, the earnings from data entry and paid survey jobs is very poor compared to other more fruitful ways to earn money online by typing.
About Online Job Boards
Before we move on to the second part of this post, getting legitimate freelance typing work from home, I want you to be aware of how some online job boards work.
When you go to freelance websites such as:
Upwork.com
Truelancer.com
They post the job, put a rate of pay on as a guideline, BUT candidates put forward hidden proposals for the job.
Hidden Proposals
Hidden proposals are when people put forward their own rate of pay for the job which is being advertised.
Now, you might find this a good idea at first but remember, these are world-wide candidates putting forward proposals.
A lot of the candidates putting proposals forward are from countries such as India, the Philippines and some African countries where the cost of living is extremely low compared to the US, UK and Australia for example. Therefore, the proposals which are put forward are normally around $3 an hour or something similar.
So unless you live in a country where $3 an hour would be sufficient living expenses for you, then a lot of these 'bidding for jobs' are not worth it.
There are much, much better ways to make money online (or offline) by using your typing skills.
Enter…

Start Freelance Typing as a Home Business
Instead of filling in survey's for pennies, doing very boring and mundane data entry jobs, or 'bidding' for typing projects, why not start your own home-based freelance typing business?
By starting your own freelance typing business, you are:
Taking control of the types of typing projects you want.
Taking control of your income.
Taking control of your lifestyle.
Taking control of your own home-based business.
Intrigued?
Then let's take a look at how you can use your computer and your typing skills to earn a full-time income from home.
Related Reading: 47 Home Business Ideas for Women
Setting Up Your Freelance Typing Business
1) Who Can Start A Typing Business?
The most obvious answer is typists, or anyone that can type accurately and at a decent speed.  I would say that you can comfortably start a typing business with approximately 55 wpm under your belt.
Obviously the faster you can type, the faster you can get through more work which means more money. But your speed can always pick-up along the way as you do more typing anyway.
Now having said that, it actually depends on the type of projects you want to do; if you need to be a super-fast typist or not.
2) What Type of Jobs You Could Do?
Typing jobs have diversified a lot since I started my own typing business way back in 2012.
In my own business I mainly focused on offline typing projects, but I did get some online typing work too.
Note: I don't run my typing service anymore as I started to diversify into online business ventures, but my typing business was definitely a great foundation and initial home-business venture.
Today there is so much typing work available, both offline and online, I believe that you would be hard-pushed not to get any work.
Obviously there are a lot of factors involved in how successful you are in securing typing projects, but the demand is definitely out there.
Online Typing Work
There is now a massive demand for all kinds of typing work online, which is brilliant news for you as a new and budding online typist.
And remember, by utilizing the Internet to seek out typing projects you are opening yourself up to word-wide potential customers!
There are literally millions of small businesses and solo entrepreneurs world-wide who need someone to help them with their typing projects. You only need to secure approximately 3-6 ongoing clients to earn a full-time wage.
So all you have to do is find 6 people out of millions and you've got yourself a thriving freelance typing business!
Offline Typing Work
I think a lot of people who look for typing jobs online actually forget about looking offline.
Whilst I believe there is much more diversity and demand online (because it's global), I still believe that you can find some great, long-term, typing clients offline.
This is especially true now after the Covid Pandemic because a lot of people have either lost their jobs, gone on furlough or they realize that they need to take their income and their livelihood into their own hands.
Therefore, there are a lot of people starting up their own home businesses, and these new entrepreneurs will need some admin and/or typing work done.
Enter you!
3) Find Online Typing Jobs Without Investment
As we've already covered above, I would strongly advise you not going after data entry and online survey jobs.
You will waste precious time trying to find legitimate ones in the first place, and if you do find a couple of jobs, they'll eventually suck the life out of you, and for pennies!
Instead, let's take a look at what's on offer to you with your typing skills and a computer.
Freelance Writing
Freelance writing is absolutely huge as there is big demand for it online. Granted the supply of freelance writers is equally big, but there aren't that many great freelance writers. This means that there's always room for more good freelance writers to jump onboard.
If you want to work as a freelance writer, there are some basic prerequisites to be successful at this:
You need to be excellent in the English language.
Have great spelling and grammar.
Be able to conduct basic research.
Be able to meet deadlines.
You don't need any prior freelance writing experience to break into this type of freelance typing work from home, as I've just said, you just need to be good at the above four points.
When you start looking into freelance writing and dig deeper, you will find that there is a multitude of different types of writing / typing jobs.
Freelance Writing Sub-Categories:
By Category: Blog Writing, Copy Writing, White Papers etc.
By Niche: Health, gaming, beauty, business, real estate etc.
Those two lists can go on and on.
So you can see that there is a wide variety of freelance writing work out there, you just need to drill down to see what's the best fit for you.
Podcast Audio Transcription
I'm sure you're well aware of how many podcasts there are today, well over a million if you're not aware, and this number grows by the hundreds each day.
Where you come into this is that most of these podcasts need the audio transcribed to text so they can put this as another learning modality on their website. Some people will stumble across the pod-casters website, and may just want a quick text synopsis of the podcast.
eBooks or Reports
Information products such as ebooks and short reports (guides) are not going anywhere fast.
Most online businesses know that they need to create at least one little ebook to sell or to use as a pre-sell for their larger ticket products such as online courses, membership or coaching programs. However, most business owners don't have the time, skills or inclination to write their own ebooks or other PDF text documents.
You could be given these projects in may different format such as audio, handwritten notes, or notes in a Google doc, for example.
It would then be your job to type up and format the ebook. So here you'll need to know how to format ebooks and reports into presentable documents for the client to sell.
Marketing:
To get online typing jobs you can:
Go to online job websites and look for 'freelance' typing.
Online freelance job boards.
Network in female entrepreneur 'business' Facebook groups.
Network in Virtual assistant Facebook groups.
Send direct outreach emails to online business owners.
4) Find Offline Typing Jobs
I feel that for offline typing jobs; you do need to have more typing skills than what you will need for some online typing projects.
I don't have an data or evidence to back this up, but from my experience local offline businesses are looking for the same type of home-based freelance candidates as if they were taking on administrators / typists which would be office-based.
And to be fair, this does make sense. Just because you would be a home-based freelance typist, this doesn't mean that you won't need the basic typing skills – you will.
Local Small Businesses
Do you know your way around Microsoft Office? What about Word?
A lot of businesses use this platform and so you really should become very familiar with it, if you aren't already.
You need to know the correct formatting of documents and letters etc.
Do you know how to do mail merges?
Do you know how to do tables, merging cells etc?
Do you know how to insert headers and footers in documents?
These are some of the tasks you'll likely be asked to do from typing clients, so you need to know your way around Word for sure as well as Excel for spreadsheets and Powerpoint for slide shows.
You also need to have 'attention to detail' and good proof reading skills. You don't want to be submitting your work back to a client full of typo's, grammatical errors and formatting errors. You need to be professional in every way you can.
Marketing:
I found some work with local small businesses because I emailed them direct. Simply look in your local business directory and make a list of all the small businesses which you would like to work with, then email and let them know about your services.
This works!
Individual Typing Jobs
I've also had many individual typing jobs from the general public, students, authors and local schools.
Marketing:
I was able to obtain these typing projects because they found me via:
My website.
My advert in local Libraries.
My business listing in local business business directories.
5. Pricing
The price you charge depends on what type of typing services you offer at to what price structure you would like to adopt.
Are you going to offer audio transcription? If so, the trend at the moment is to charge per audio minute.
What about copy typing? Typists normally charge per thousand words for copy typing.
Miscellaneous work? I.e. typing jobs that don't fit into the transcription or copy typing description.
Miscellaneous, one-off, typing projects need to be priced per hour or per job depending on what the job is. Make sure you know all the details of the job before you set a price, even ask to take a look at the project first or do a sample of it before you finalize the price – or take on the project at all.
Claire says:
I made a huge mistake when doing a typing project for a local school. I give the price immediately over the phone just going off what the headmaster's description of what he wanted doing.
I should have asked to see the handwritten book before I set the price and took on the project.
I seriously undercharged him for this project. It was a nightmare!
You'll have to do some initial research first to see what other freelance typists are charging. You can easily do this by finding their websites online and looking at their prices.
6. Offer Fantastic Customer Service
You won't get much repeat custom if you provide poor customer service to your clients.
Customer service is always paramount in any business and yours should be no different.
Always answer your emails as soon as you can.
Pick up your phone straight away and answer with your business name.
Have a good telephone answering service in place (but get back to your clients asap).
Always be polite and professional – but don't forget to be friendly too.
Always meet deadlines.
Ongoing communication between you and your client is extremely important.
There is a lot of competition out there for typing services, so if your enquirers don't get to speak to you straight away, or you don't answer their email until two days later, then they will just look elsewhere and you have lost a customer already.
7. Professional Work Etiquette
Systems and business documentation! These are the things you need to have in place to run your typing business smoothly and professionally.
Have standard templates of all your business documentation, i.e. invoice, client agreement, client record card etc..
Make separate folders in your email client and on your PC for each customer. Keep all the completed business documentation and their typing jobs in these separate folders. Also, make back-ups of these too.
Don't take on jobs you can't do. If someone wants you to do a ton of work on Powerpoint and you've never used it before, then don't take on that job. By all means learn Powerpoint for future jobs, but not until you have mastered it.
Make sure you email back the typing job to clients on time. When you first quote the job and the time-frame always add a bit extra time on just in case something comes up or goes wrong. If you hand the completed job back before it is scheduled to, well, you will look even more professional and efficient than ever!
So there you have it, a quick run-down of what is needed when starting your own freelance typing from home business. I hope you found these useful and please get in touch with me when you have your first typing client to let me know how you're getting on!
After reading this page and you decide that you're not totally sure if you want to go down the typing route to make money, then take a look at my post on 47 Home Business Ideas for Women. You might find a little home business which suits you better than trying to find legitimate typing jobs from home.
Hi, I'm Claire Bullerwell
I've ran dozens of home-based businesses, both offline and online, since my early twenties. I started this blog to share all my wealth of knowledge and experience to help women just like you; to find your dream home business. Fill that empty nest, work around your menopause and just live your best life at 50 something!
Follow me and let's get acquainted…