If you have a love for dogs and have some spare time on your hands, then this is a good home-based business for you to start on the side.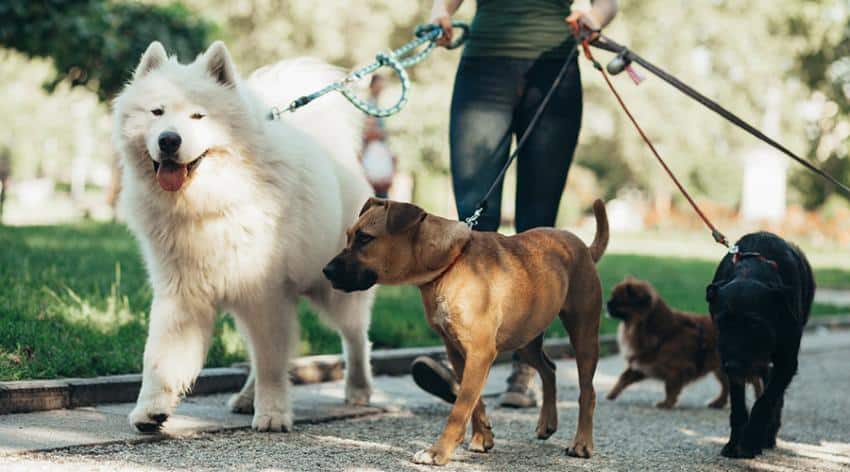 This post may contain affiliate links. Please see our disclosure policy.
A dog walking business has become increasingly popular over the last few years and I think the reason is that there are thousands of dog lovers who want or have dogs, but these people also have to go out to work too. You cannot leave a dog in the house for hours on end by itself with no outdoor walk to stretch the dogs legs and let it go to the toilet.
Therefore the time is right to start a dog walking business now; it's simple and low-cost to set up and you get to work from home and choose the hours that suit you.
1) Your Business Name & Logo
You first have to decide on a business name, this is important for advertising purposes.
Once you've decided on a business name, you might want to think of getting a logo designed. You can get logo's designed very inexpensively, and it really is an important part of your brand and visual advertising.
This image is just an example of watercolor branding logo designs. There are many other different creative types of logo designs to choose from.
Examples of Watercolor Feminine Hand Drawn Logo Designs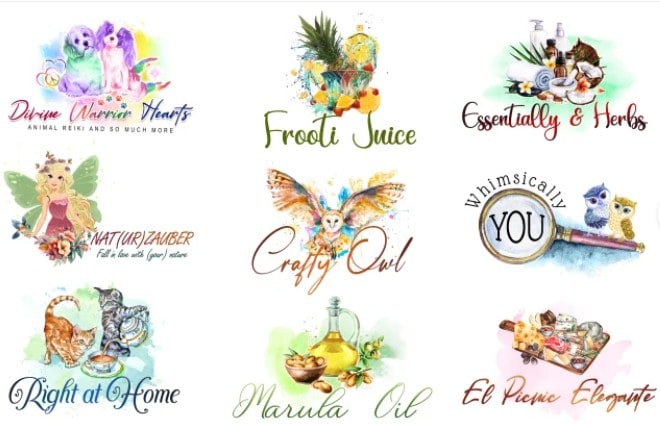 2) Rates of Pay
Now you need to set your rates of pay. I would set a half-hourly rate as well as an hourly because an hourly rate may be too long for some dog owners' needs. Look Online or ring around local dog walkers to find out what their half-hourly rate is as guidance. As I write this, a quick research Online told me that the half hourly rates in the US are approximately $10.00 and an hourly rate of £20 to $30.
This depends on where you live – look at the Referral dog walking website Rover
for rates of pay
.
You will also have to determine if a person wants one or more dogs walked at the same time. You would set these half-hourly prices and then add an extra couple of pounds on per extra dog.
3) Do I need Dog Training Qualifications?
No, not really. You just need a love of dogs and preferably have a dog yourself (but this isn't necessary). I think the main issue would be to prove that you are legitimate and trustworthy, so be your normal, lovely dog-loving self and you should be fine!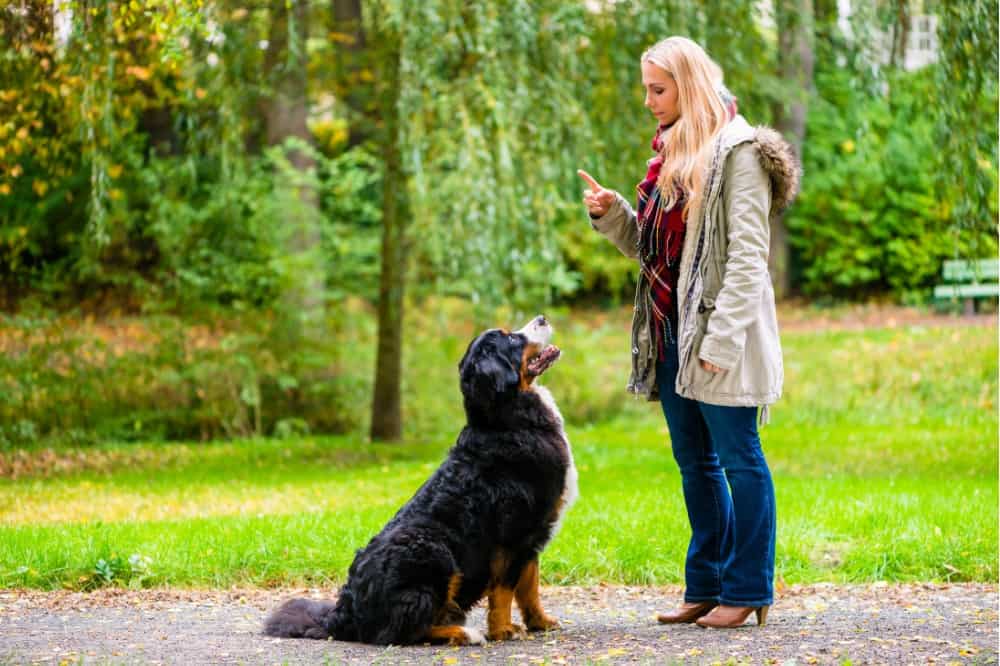 There are animal welfare courses that you can take either locally or by distance learning. If this interests you then you can have a read up on what's available at The College of Animal Welfare http://www.caw.ac.uk/ or find something similar in your country or local area.
Did you know that you can make money creating and selling
dog treats
from you kitchen!
If you want to take your dog walking business seriously and to the full extent, then a diploma in animal care would be a welcome addition to your business and attracting customers.
4)  Dog Walking Licence
You must check with your local council / authority about running a business from home.
You might need a special licence to run any type of business from home in your area, but you also need to check specifically about a dog walking business licence.
Here in the UK, some councils have introduced licences for professional dog walkers.
These are schemes being introduced to ensure that the local parks are kept clean and pleasant for everyone to use.
The £200 (ish) licence fee is to go towards the upkeep of the park and effective management of commercial dog walking.
If you don't have a licence, then you'll get a £100 fine.
The councils don't want the parks over-run with professional dog walkers, and this licence fee is to deter the 'not so serious' professional dog walkers.
So you must check with your local council / authority about any type of licence to walk dogs in your local park, or even just to walk dogs in the street.
5) Marketing and Advertising
You have your business name (and logo), you have your rates of pay set, now all you need is dog customers!
Here is a list of things which I would do if I wanted to start my own dog walking business up:
1) I would create a small website (you can create a free one at www.weebly.com) and use this website as your main advertising material (your Online brochure). All my advertising would direct back to this website offering further information.
Put all the information on your website that you would think your potential customers would need to know, for example:
Your rates of pay;
Areas which you cover;
Your contact information;
A short bio about yourself (showing your love of dogs)
If you really cannot do a simple website for yourself then get someone to build one for you.
2) Now you have your website up and running, submit it to a few Online directories such as:
www.yell.com and www.thomsonlocal.com.
Then submit it to pet/dog orientated directories and sites such as www.petslocally.co.uk.
3) You should also advertise your services on free classified ad sites such as www.gumtree.com.
Again, find local directories in your local area, and post ads there.
4) Flyers are an excellent way to advertise for local small businesses and services. Create and print them off yourself or you can get them done cheaply at a printers for a more professional look. You can either deliver these yourself to areas where you are willing to dog walk or get a local distribution service to do this for you.
5) Word of mouth is an excellent and free way to get your service made viral. When you show that you provide an excellent service to your customers, they will automatically start talking about you and your services. You could also give them a few of your flyers or business cards and ask them to pass these onto their friends and family.
6) How Many Dogs?
You will have to check with your customers if they are happy enough for their dog to be walked with other dogs, some people are not keen on this idea. Also, individual Councils have various rules on how many dogs can be walked together at any one time by an individual so please check with your local council but the norm is usually no more than four dogs.
7) Business Practices
You won't have much administration work with this type of business, but make sure you are registered as self-employed with the Inland Revenue and that you have a book-keeping system in place. You also need to look into insurance to cover yourself for any liability, normally this is a public liability type insurance.
So there you have it, a step-by-step guide to help you set up your own dog walking business.
If you love dogs and enjoy the outdoors then this is a fantastic business for you – imagine getting paid for something you love doing anyway!
If you're still not 100% sure that a dog walking business is for you, then head over to another post of mine to find more home business ideas for women to see if any of those appeal to you too!
Hi, I'm Claire Bullerwell
I've ran dozens of home-based businesses, both offline and online, since my early twenties. I started this blog to share all my wealth of knowledge and experience to help women just like you; to find your dream home business. Fill that empty nest, work around your menopause and just live your best life at 50 something!
Follow me and let's get acquainted…