I think it's really exciting when you first start looking into how to start a home business; because you're working towards a new income stream, a new lifestyle and a new chapter in your life.
And that's exciting… but it's also scary and overwhelming at the same time.
In this guide, I have laid out the fourteen essential steps you need to follow to find and start a home based business so you can get off on the right foot and avoid all the overwhelm and confusion.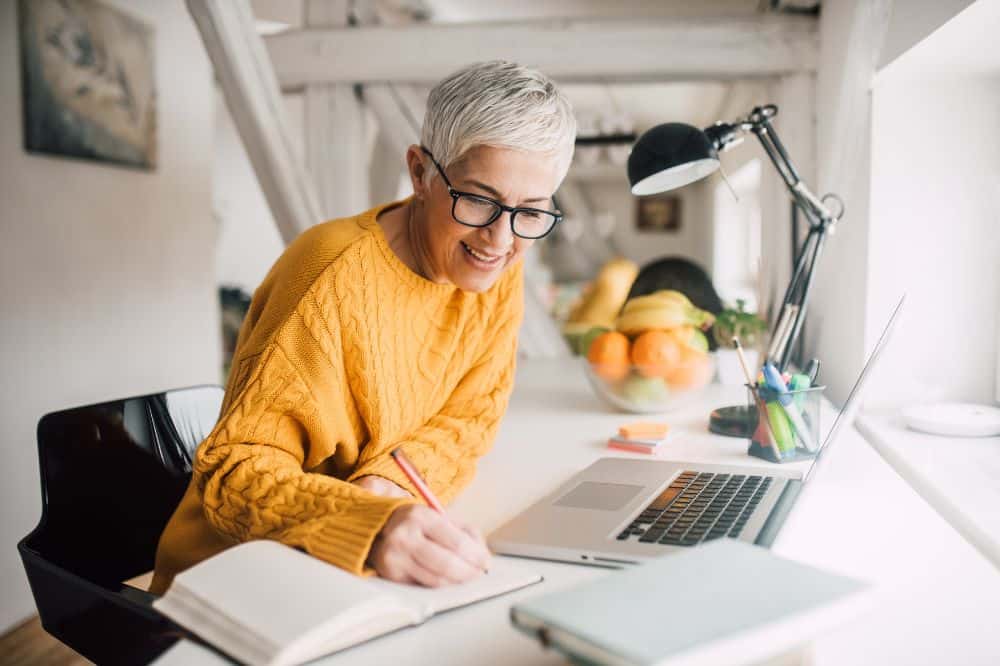 I've been running various types of home-based businesses, both offline and online, for over 25+ years so I know what a nightmare it can be just to get started and actually get a new business off the ground.
And I bet that you're feeling the same right now; with a mixture of emotions such as excitement, scared, confused and even a little fearful.
If you're feeling any of these emotions, then don't worry as this is the exact reason why I put this list together,  to help you start a home business but without all the headaches, confusion and frustration.
So don't let your dream of running a successful business from home disappear just because you don't know where or how to start.
Let's look at how to start a home business the right way by following these 14 steps.

14 Essential Steps To Start a Home Based Business

1. Choose Your Dream Home Business
You really need to be as certain as you possibly can that you've chosen the best home business which suits you.
I'm speaking from experience here because I've set-up and ran many home businesses which didn't suit me – for whatever reason, and so I want you to avoid home business hopping (I think I've just invented a new phrase!) like I did.
I cannot tell you how frustrating and depressing it is to spend so much time, money and effort into starting a new small business just for it to fail six months down the line. And what I mean by fail is that I decided that I didn't want to pursue the business anymore because I wasn't enjoying it, and consequently, it wasn't making me much money.
A business can only fail when you throw in the towel.
But on the other hand, a business can only succeed when you truly enjoy what you're doing.
If you don't enjoy working in your business, then you're not going to get much out of it.
Related Reading: How To Choose a Business Idea
Plus, starting a business from home is about the lifestyle you want to live too, not just the monetary value. Yes it would be great earning $5,000+ per month with your home-based business, but if you're not enjoying it or leading the lifestyle that you envisaged, then that's not a great scenario to be in is it?
So make sure that when choosing your dream home business, you choose a one that will not only help you reach your income and lifestyle goals, but a one which will work for you on a personal level.
2. Knowledge Is Power
As a new budding female entrepreneur, you're more than likely not to be knowledgeable on everything that involves starting a small business at home.
Hopefully this article, and this website as a whole, can give you most of the information you need. However, I'm not brazen enough to think that I know everything there is to know about starting a home-based business, of course I don't!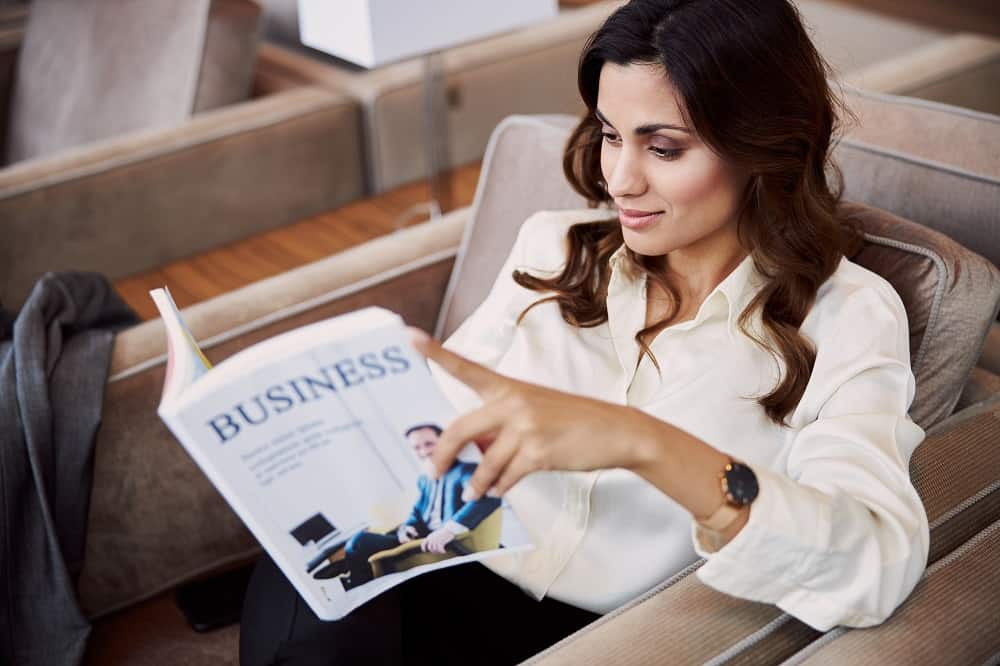 Even though I've got a degree in Business, it didn't cover anything that was related to running a home-based business. So I had to go out there and buy courses and books, and read many, many blog posts and articles.
Also, a lot of my learning was by trial and error. You see, it is good to make mistakes because you learn from them!
So it's imperative that you delve in to learn as much about running a small business from home as you can.
There are four main aspects you need to be knowledgeable about when starting a new home business:
Know inside out about the business which you've chosen to start.
The implications of being self-employed and working from home.
Marketing your business to get customers/clients.
Managing your businesses cash-flow.
I briefly go over the last three below, but make sure you do your own homework too.
3. Mindset Matters
I know you're probably thinking that you don't need to 'get into the right frame of mind' because you're already excited and full of enthusiasm to get your new business off the ground.
And I get it, I really do.
However, the frame of mind that you're currently in will not last throughout your business journey.
This is because when you start to do your research and actually put pen to paper to plan and map out your business, you'll soon see that you have many obstacles to jump over.
I've covered how to get passed these obstacles in my How To Handle Failure in Business post, but just know for now that you will at some point:
Have self doubt.
Get frustrated.
Stop believing you can succeed.
… among many other thoughts that will work against you.
So I would encourage you to start putting some mind work techniques in place now so you will be in a good and strong frame of mind when things don't go according to plan.
Related Reading:
4. Do Your Market Research
Okay, now it's time to do some serious work.
You absolutely MUST do a lot of research to make sure that your business will have the absolute best chance of being successful.
I know that you already know this and I'm not trying to insult your intelligence, but I thought I just would reiterate this and put some emphasis on how important it is.
It's just that I see so many people start a new business but don't do the necessary research first and then wonder why their business isn't a success.
In business terms, this is called market research. This is where you gather information about your target market and whether your product or service will be viable and profitable.
Here are the main eight points where you need to do market research on.
Who is your target market?
What are their problems and their pain points?
How will your product or service be the solution to these pain points?
What would be the best price-point for your product or service?
Will your ideal customer be willing to pay this price?
Do you know who your competitors are?
How will you have the edge over your competitors?
How are you going to market and promote your product or service?
The answers to these questions will become the foundation of your business, so take them seriously and do the necessary research work to find the answers to all of the eight points.
5. Write a Business Plan
Now you've gathered all the essential information on your business, it's time to put this information into some form of order and structure, and the best way to do this is with a business plan.
"But Claire, do I really need a business plan for a small home business?"
The answer to this is no… and yes.
Asking for a Business Loan
The main reason why new businesses need to write out a business plan is when they want to get a loan from the bank.
So the small business owner would write up a formal, traditional business plan to take to her meeting with a banking Business Development Manager.
A traditional business plan will have formal sections in it such as:
An Executive Summary
Market Analysis
Financial Projections
These have to be researched and presented in-depth as the Business Development Manager has to make their decision based on these true facts.
Claire says:
"I had to write out a traditional business plan to take to the bank asking for an extended overdraft when I set up my Domestic Cleaning Business.
This was necessary because my cleaning business was part of a franchise and I had to have extra funds to fall back on.
So the answer to the "Do I really need a business plan?" question would be no, you don't have to draw up a business plan if you don't need a loan from the bank.
However…
Mapping Out Your Road Map
You've already gathered all that very necessary market research information about your business, so what are you going to do with it?
Answer: Put it into an informal business plan.
You don't have to write out a long and tedious formal business plan, instead make it fun and exciting by mapping out and creating a success road map for your business.
So think of your informal business plan as your success path
Your business plan comprises of different sections detailing the different sections in your business. So treat each section as a stepping stone as part of your success path.
Your success path stepping stones – aka informal business plan:
Products/services to sell
Getting ahead of your competition
Refining your marketing strategy
Finding new customers or clients
Growing a customer base / online audience
Reaching your income and lifestyle goals
Revise Your Business
When things don't go to plan or you're business isn't growing as fast as you had planned, simply go back to your business plan and review it.
What area of your business isn't working? What do you think you need to tweak or change to get you moving forward again?
So in essence your business plan isn't a one-time exercise, it's a continuous work-in-progress.
You'll be continuously planning your way to success!
6. Choose a Business Name
You've done a lot of hard work up to this point, so you should feel a big sense of achievement and accomplishment.
Well done you!
So far you…
Have completed your market research.
Are happy that your market research points to your business being a success, and
Have typed up the first draft of your business plan.
… now it's time for the fun part of choosing a name for your business.
Please Note: This will differ from county to country, so be sure to check in your country and state / county / city as to what the legal requirement is in respect to naming a small business.
If you're going to use your own name as your business name, then you don't have to do anything further.
However, if you want to use something else as a name for your business, then here are some tips.
Quick Tips to Choose a Business Name
Make it clear what your business does.
Make it memorable.
Keep it short.
Easy to pronounce.
Easy to spell.
Try to make it as unique as possible.
You could even make it fun and quirky.
Don't use hyphens.
Registering Your New Business Name
Once you've brainstormed some ideas and have a list of about three potential names, you'll want to make sure at least of of them is available to use in your state or city.
In the US you must register your business name.
In the UK it's not mandatory to register a business name if you're a sole-trader but you must register a company name if your setting up as a limited company.
Online Presence
If you want an online presence with a website, then you'll also have to purchase a domain name.
So before you register your business name, also make sure the domain name is available too.
I always use NameCheap when registering a new domain.
7. Become Legally Self-Employed
When you start a home business it's essential that you become legally self-employed.
Again this differs from county to country, so make sure you check with your governments guide lines.
Decide on Your Business Structure
Before you register your home based business, you'll have to decide on your business structure.
Most home-based solopreneurs will likely register as a sole trader / sole proprietorship.
The other options are:
Partnership
Limited Liability
Corporation
Each have their pro's and con's.
If you're unsure what to start trading, as then I recommend you meet with an Accountant who will advise you on the financial implications of each one.
https://www.sba.gov/business-guide/launch-your-business/choose-business-structure
Register Your Home Business
Once you've decided on your business structure, you'll then have to register your business.
Here in the UK, you must register your business within three months of you starting to trade.
>> https://www.gov.uk/set-up-business
In the US, your location and your business structure will determine how you'll register your business.
In the case of small businesses working from home, then all you need to do is to simply register your business name, and you're good to go.
However, if you're using your real name as your business name, then you don't need to register your business at all.
This is all starting to get a bit heavy and complicated (especially since I'm from the UK) and I don't want to give you any inaccurate information, so please follow this link to find out the best way to register your business in the US.
>> https://www.sba.gov/business-guide/launch-your-business/register-your-business
8. Do You Need Extra Insurance, Permits, Licences?
Next in setting up your new home business, you need to check with your local council/governments if you require any special licenses, insurance or permits to run your business from home.
It depends on the type of home business which you're going to run from home, as to what permits or extra insurance you need.
For example if you want to run a catering business from home, or indeed any type of food business, then there will be strict guidelines which you need to adhere to and will likely need extra permits and licenses.
Ask yourself, "What exactly will my home business entail?"
Do you need to make major alternations to your home?
Will you be getting lots of deliveries?
Will customers be visiting your home?
Also, even if you just work at home with your computer, your home insurance may not be enough to cover your computer or any stock.
Check to make sure exactly what insurance and permits you need to run a home-based business where you live.
https://www.gov.uk/run-business-from-home
https://www.usa.gov/start-business
9. Learn Basic Bookkeeping
This is the part of running a home business which I dislike the most, and I know that I'm not the only one.
However, if you get a good financial system set up then that will ease the burden to keep a track of your income and expenditure, and it will just become another administration task to do.
Separate Bank Accounts
Although it's not mandate to open a separate business bank account if you're going to operate as a sole trader/sole proprietor, it's still strongly advisable to do so.
It will make your life that little bit easier if you have a separate bank account for your business transactions.
In the US you need to have an Employee Identification Number (EIN) in order to open a business bank account. You can apply for a EIN number on the IRS website.
In the UK you'll need to provide the following documentation when wanting to open a business bank account:
Proof of identification i.e. drivers licence.
Proof of address i.e. utility bill or bank statement.
Your business details.
Basic Bookkeeping
When you have your bank account set up, you'll want to take into consideration other financial elements such as:
Are you going to issue invoices?
If so, how?
How are you going to accept payments?
How are you going to keep track of your income and expenses?
Are you going to use a bookkeeping software program such as QuickBooks?
Or are you going to keep track of your cash-flow via a spreadsheet?
You might try a few different financial systems before you find a one which suits you.
For example, you might start off by keeping track of your income and expenditure on a spreadsheet, then you might give QuickBooks a 30 day trial and find that much easier, so you'll switch to that.
Or you might do both.
10. Set Up Your Business Website
Although it's not imperative that you setup a website for your business, it can only add a more professional look and reach more customers via the Internet.
Of course, it depends on what type of business you run as to whether you should create a business website or not.
For example, if you're going to run an online business as a virtual assistant, then you must create a website in order to attract new clients world wide.
However, if you're going to run an offline business such as dog walking or cake decorating for people in your local area, then you could get away without having a website and use a Facebook business page instead.
Your Online Brochure
It doesn't have to be a big, fancy website. It can be a small 3-5 page website which acts as an online brochure to showcase your products and/or services.
Facebook Business Page
The good thing about creating a Facebook page is that you're still giving yourself an online presence and it's free!
I see this happen a lot where I live with small local businesses; such as local cafes, cleaning services and card shops.
You need to have a personal Facebook profile first, then you simply create a Facebook page via a link on your profile.
From there you'll invite all your friends and acquaintances to like your new business page, then you create a new post each day to keep your followers updated on what's happening in your business.
I would say however that even if you run a local offline business, then creating a simple website can only add to your brand's identify and professionalism.
11. Communication Channels
Depending on what type of business you're going to run; how will you communicate with potential customers or clients?
Will you use a dedicated landline phone?
Will you use your personal mobile/cell phone?
Are you setting up a business email address?
Will you book clients through an appointment scheduling software?
Also, since you're running your business from home, are you happy to have your home address freely visible, or do you think you should get a PO Box address to display on all business stationery?
12. Create a Marketing Strategy
You've already completed your market research and written up your business plan, and in that plan you should have identified how you're going to promote and market your business.
If you're still a bit unsure how you're going to promote and market your business, then learn how to put a full marketing strategy together.
A marketing strategy is different to that of simply advertising your services or products.
A marketing strategy is the awareness and decisions you take to then plan and map out your marketing actions, the tactics you're going to take.
Related Reading: How To Create a Digital Marketing Strategy
13. Set Up Your Home Office
If your small business requires you to work from home, then you'll have to set up a home office.
Not everyone has the luxury of having a dedicated office, or a spare room which they can turn into an office, if this is you then you'll have to get creative.
Can you use a corner of a dining room or kitchen? What about using a little fold-away table or desk and using that with your laptop, as opposed to having a permanent stand-along PC.
I've put together some home office accessories in my little shop:
14. Launching Your New Business
You've completed all the necessary steps and learned how to start a home business the right way.
Yay!
Now it's time to launch your business.
This is exciting but also definitely scary – and that's a good thing.
What's your launch plan?
Are you just going to keep it as simple as possible and just start to put out some flyers?
Or are you going to launch your online business with joint venture partners and Facebook ads?
Or you could do a 'soft launch' and just network in Facebook groups.
There's many ways to get your business off the ground, just make sure you do something which you are comfortable with.
Summary
I hope you found these fourteen steps helpful in getting your home business set-up and started.
I do realize that there's a lot more that goes into starting a new business, but I believe that these fourteen steps are a very solid and systematic start to get you onto the right path.
Here's a summary of the 14 steps again for your convenience.
#1 Choose Your Dream Home Business
#2 Knowledge is Power
#3 Mindset Matters
#4 Do Your Market Research
#5 Write an Informal Business Plan
#6 Choose a Business Name
#7 Become Legally Self-Employed
#8 Insurance, Permits, Licenses
#9 Learn Basic Bookkeeping
#10 Set Up Your Business Website
#11 Communication Channels
#12 Create a Marketing Strategy
#13 Set Up Your Home Office
#14 Launch Your Business
What Next?
If you need more help in finding and starting your dream home business, then you might be interested in my Home Business Roadmap eBook.
It categorizes 70+ home business ideas so you can easily see which types of businesses you're drawn too, and then the second part consists of a self-assessment followed by four other exercises and worksheets.

When you've worked through this section of the workbook, you should have identified your dream home business.
But the book is sooo much more than finding your dream home business. It then goes on to show you the very next steps to take once you've found your ideal business idea.
As it says in the title, it's a complete home business roadmap!
>> Learn more about the Home Business Roadmap here…
Hi, I'm Claire Bullerwell
I've ran dozens of home-based businesses, both offline and online, since my early twenties. I started this blog to share all my wealth of knowledge and experience to help women just like you; to find your dream home business. Fill that empty nest, work around your menopause and just live your best life at 50 something!
Follow me and let's get acquainted…