When I first started this blog I knew that I wanted to write about this specific topic, and although I've started dozens of home businesses myself,  I thought it would be a good idea to also get the views of other women who are already running a small business from home.
After all, two heads are better than one.
So I recently asked this question in a Female Entrepreneur Facebook Group of what the very first step should be when building a business.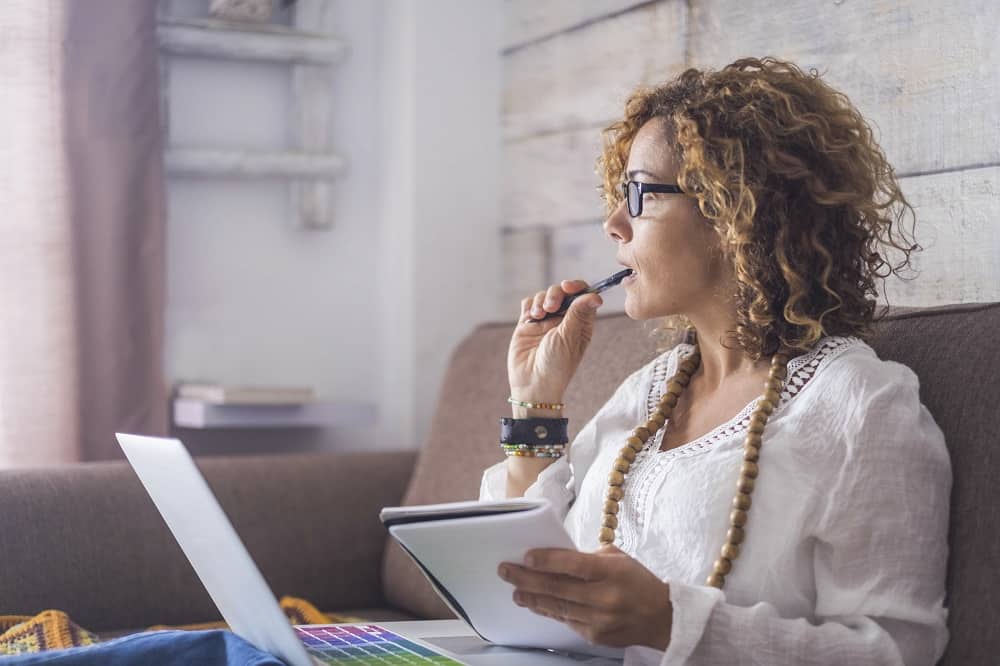 Now, this Facebook group is full of women who already own successful businesses, both online and offline and in all sorts of niches, so as you can imagine I was very excited to see what answers popped up.
To my surprise I got 27 answers back, and so I thought it would be fun to share them with you today.
Whether you're looking into starting a home-based business, or you're in the early stages of building-up your business, you'll find these answers intriguing.
They are in no particular order, I've literally typed them in the order they were posted.
Here you go…
"What do you think the very first step should be when wanting to start a business?"
— Understanding it's a marathon, not a sprint!
— New entrepreneurs should focus on the long-term goals and not just be contented in hitting the short-term goals.
— Know your community's problem.
— Protecting with preventative measures to build a secure foundation
Claire says: I asked this lady what she meant by this. She works in the legal profession, so it's basically getting an attorney to draw up a contract should it be necessary in your line of business.
—  Research and Planning
—  Believe in yourself
—  Have a strong product. If you have done your homework, know if you have something a bit unique. It's well price pointed then that's a good start
—  An idea.
—  A clear goal. Clarity is essential.
—  Knowing your WHY
—  Creating your vision. I see this with almost every client that comes to me. They want to build the business first and see where it can take them. The truth is, when you flesh out a vision it sets a destination that allows you to create a clear map to follow to get there.
— Mindset
— Be coachable
— Mindset
— Absolutely work on your mindset
— Mindset, for sure! A strong foundation definitely changes everything.
— Believing yourself!
— Knowing who you really are
— Faith and determination
— Courage
— Work on your mindset. How you deal with rejection, slow progress, what would be your motivator to keep going.
— The very first step is what are the results you want to achieve and your vision.
— Business Plan
— Knowing your business concept
— A clear goal
— Slow and steady wins the race
— Create a business plan!
Wow, that was a mixed bunch of answers wasn't it!
But I think the takeaway from all of the above is that mindset comes first, closely followed by creating a business plan.
Mindset
You can do all the research and planning in the world, but if you don't have:
The right mindset
Belief in yourself
Courage
Determination
… then all of your careful planning will not show a great lot of results because your mindset could be holding you back.
If you have mindset problems, then this will likely show up as:
Having limiting beliefs
Feeling 'not good enough'
Lacking in confidence
However, please don't put your business idea on hold because you feel that you suffer from any of the above, just make sure you work on your mindset daily.
What I've found, from personal experience, is that when you work on your mindset daily and you also do little actionable steps each day, then your confidence grows each day too.
A positive mind + daily action steps
Equals…
The making of a successful business!
There are many ways to work on your mindset, but some of the most popular ones are:
Daily journaling
Write down your main goal each day
Affirmations
Positive thinking
Taking positive action steps each day
Related Reading: 7 Daily Habits of Women Who Succeed in Business
Create a Business Plan
You absolutely MUST create a business plan.
As you've just read from the above list, a lot of female entrepreneurs said that you need to have a vision and know what your target markets' problem(s) are. All of this needs to be brainstormed and mapped out in a business plan.
It doesn't have to be a formal business plan, like a one where you would present to the bank, it just needs to be an informal business plan.
Your informal business plan will become your success path, it's your road-map to ensure that your business succeeds.
What Next?
If you want to get stuck straight into starting your business, then my Home Business Roadmap ebook + bonuses will help you get there.
My book includes all of the above points the ladies in the Facebook group advised:
Finding your WHY
Create your business vision
A whole section on Mindset
70+ home business ideas
A self-assessment
Business research & planning
Read more about how the Home Business Roadmap can help you find and start your dream home business.
If you're not ready to start a home business yet, then you should find these articles helpful:
I hope that this has helped you a little as to know what the first steps are to get your business off to a flying start.
To your success!
Hi, I'm Claire Bullerwell
I've ran dozens of home-based businesses, both offline and online, since my early twenties. I started this blog to share all my wealth of knowledge and experience to help women just like you; to find your dream home business. Fill that empty nest, work around your menopause and just live your best life at 50 something!
Follow me and let's get acquainted…