Today I'm going to share with you the best two ways to get clients for your cleaning business.
Of course there are dozens of other ways to get clients, but I don't want to give you 'information overload' where you'll end up confused and not end up implementing any of the 'client getting' strategies.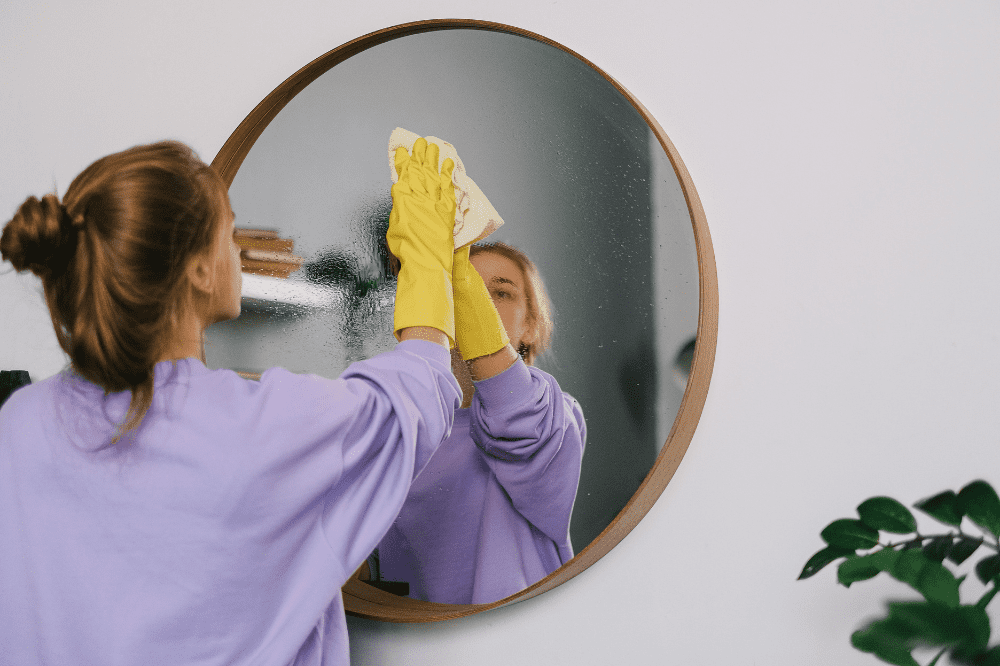 I feel it's best to be aware of  the top two or three ways to get clients, and then implement one or two of those in your own house cleaning business.
This way you're not spreading yourself too thin over multiple different marketing techniques; which ultimately dilutes your efforts, and instead I encourage you to hone in and make only one or two techniques really work for you.
Direct Marketing: Printed Leaflet Flyers
This was by far my no.1 best, high converting advertising method.
This is when you simply put leaflets through the letter boxes of your carefully selected target market.
I also recommend leaflet drops to get your first cleaning client, as it is highly targeted and quick.
Let's Talk Conversion Rates
If you get the right marketing message in front of the right customers, then you should aim to get a leaflet conversion rate of 2-3%.
So to do the math(s) for you, then this is what you're looking at with a 2% conversion:
1,000 leaflets distributed = 20 telephone inquiries
1,500 leaflets distributed = 30 telephone inquiries
3,000 leaflets distributed = 60 telephone inquiries
Of course, you're not going to convert all of your telephone inquiries into paying clients. So again, you're looking at another 2-3% conversion from turning inquiries into customers.
This is roughly what you'd you looking at:
20 telephone inquiries = 1 new client
30 telephone inquiries = 2 new clients
60 telephone inquiries = 3 new clients
Now, however having said all of that, if your marketing message speaks directly to your potential clients, and your leaflet design is professional, then you could be looking at a much higher conversion rate all round.
Your Target Market
The first thing you need to be sure of is who do you want as your cleaning clients?
Know and identify exactly who these people are, and where they live and then write down the zip/postcodes of these areas.
This is where you're going to distribute your house cleaning flyers to.
You can either do this leaflet drop yourself, or you can pay a leaflet distribution company to do this for you.
Marketing Message
When I say 'your marketing message needs to speak directly to your target market (potential clients)', I mean the words which you have on your leaflet.
At the end of the day, you're offering a cleaning service to solve a problem for your target market. Their problem being that they don't have the time or the inclination to do their own cleaning.
So it's vital that you say how you can solve their cleaning problem with your cleaning service on your leaflet.
This is your marketing message.
Leaflet Design
Once you have your marketing message all written out (this will take a few tries), then it's time to get it onto your leaflet design.
The easiest way to get this done is to get in touch with a printer and ask them to:
Create a new bespoke design for your cleaning business, or
To use a ready-made template.
Most printers will be able to quickly create a design for you as there is not a great lot of scope to design totally bespoke leaflets, as they literally consist of a:
Image
Heading & Sub-Heading
Sentence
Bullet Points
Call to Action
Your Contact Info.
You can look for local printers in your area, look online and use a service such as www.vistaprint.com or you can get some really good deals on www.ebay.com; as a lot of printers have shops on there to promote their printing services.
Cost of Leaflets
I recently did a quick search on eBay to see how much it would cost to get a starter pack of leaflets designed and printed.
I live in the UK, and eBay.co.uk had results with printers charging only £50.00 to get 1,000 glossy A5 leaflets printed!
Therefore, going off my leaflet distribution conversion scenario above, you could potentially get 1-5 new customers with only 1,000 highly target leaflets.
So for £50  you could potentially get 3 new customers.
You then ask yourself, how much are three new customers worth to me over the next six months or so?
Cumulatively, a LOT more than £50!
Social Media Marketing
Now we'll move onto using social media to market your house cleaning business (or commercial cleaning).
I'm specifically referring to Facebook here.
The reason being is that Facebook has a really good 'local' function where you can set up pages and groups which are specifically for people in your local area.
… and this is gold dust for local businesses!
How?
Because it is free and these pages and groups tend to have great 'word of mouth' / viral ability.
Also, you don't have to spend a lot of time on Facebook, you simply type up a post each day as a way of keeping your followers updated with your services.
For example when you clean a home, and it is really dirty/messy, you could take a before and after photo and upload that onto Facebook to show your followers how good you are!
How To Set Up a Facebook Business Page
To set up a business page, you first have to have a personal profile.
Then look for 'create a page' in the menu bars and go from there.
Sorry that I can't show you step-by-step, but Facebook changes things around all of the time! So whatever I put here, it will be out-of-date by the time you read this.
Summary
As I said at the start, there are many more ways you can get clients for a house cleaning business; but these are the best two, time-tested ways to get clients and referral clients.
These are a great combination of direct marketing and social media marketing, giving you the best of both worlds!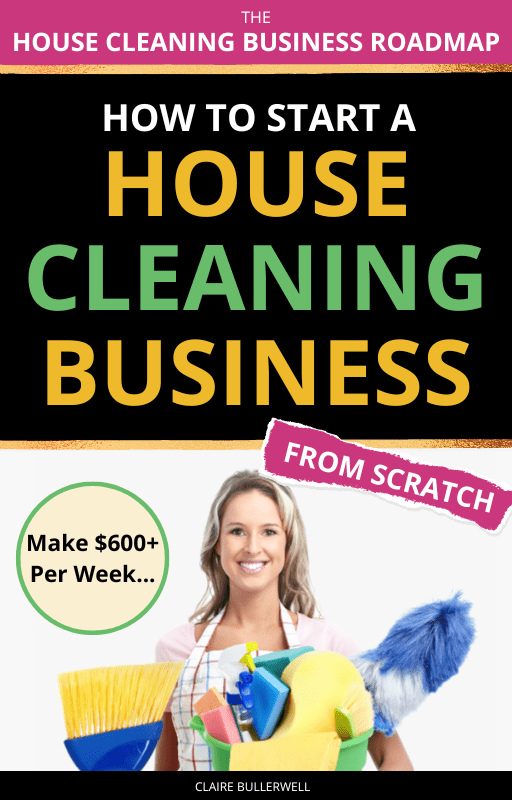 If you want to start, or grow, your house cleaning business and earn $600+ per week, then I show you how, step-by-step in my House Cleaning Business Roadmap ebook.
>> Learn more by clicking here…
Save This Pin for Later…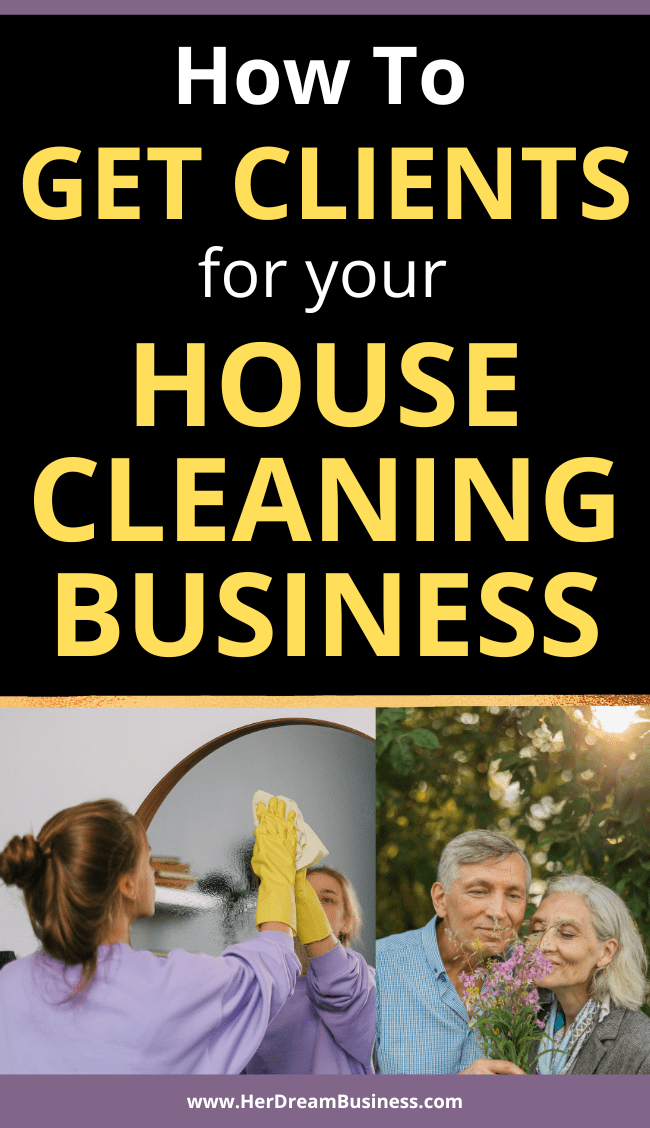 Hi, I'm Claire Bullerwell
I've ran dozens of home-based businesses, both offline and online, since my early twenties. I started this blog to share all my wealth of knowledge and experience to help women just like you; to find your dream home business. Fill that empty nest, work around your menopause and just live your best life at 50 something!
Follow me and let's get acquainted…