By being a stay-at-home mom you don't have to give up your business ambition. There are many business ideas for stay-at-home moms that will allow you to pursue your passion while still taking care of your family, all thanks to the growth of online business opportunities.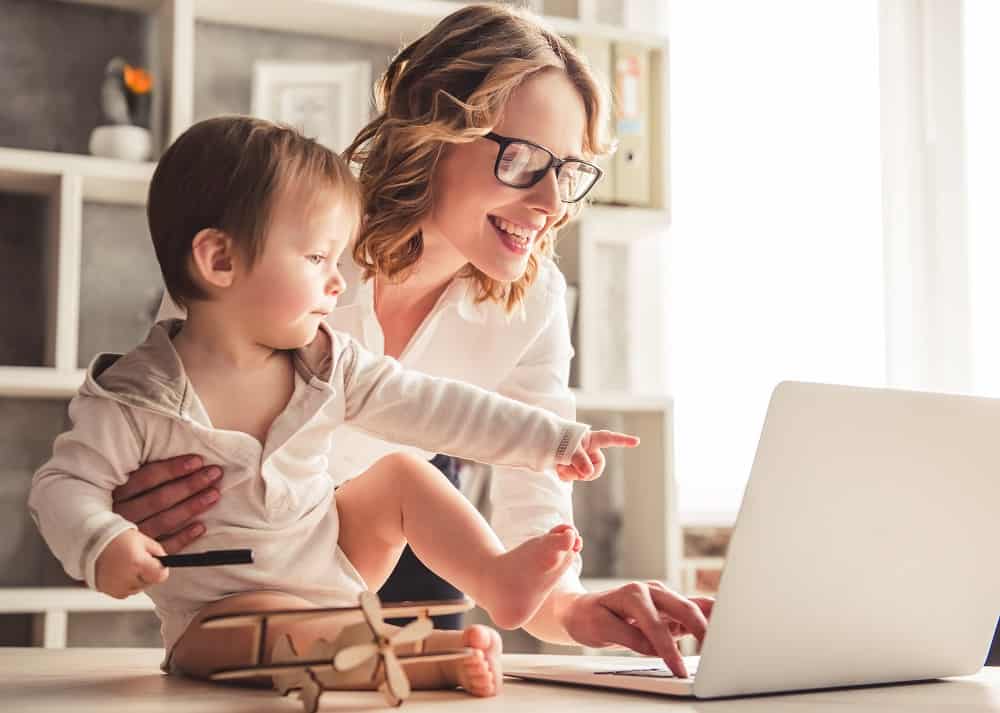 This post may contain affiliate links. Please read our disclosure policy for more information.
You can easily juggle work and looking after your family with side-hustles such as freelance writing, being an email customer support agent, or running an e-commerce store.
Online & Offline Business Ideas
Although most moms would likely want an online side-hustle working on their laptop, I do realize that not all moms would want to run an online business. Therefore, I have also included some offline business ideas which require no particular skills.
If you want to run an online business, you should be aware that most of them require quite a steep learning curve. So even though you can start an online business for $50 or under, you will have to devote quite a bit of your time to learn a new skill set.
But with these offline business ideas, they are likely to be something that you already do at home anyway, so you won't have to learn something entirely new.
Home Businesses on a Budget
Before I go into the nine best business ideas for stay-at-home moms, I want you to know that all of these home businesses can be started with a very low budget.
In fact, you can actually start most of these with no money at all.
But if you have $50-$100, then this can speed things up for you if you want to invest in some learning materials, such as an online course or to buy an ebook on a business idea which you want to eagerly pursue.
And of course, you could also spend some money on advertising and marketing your new business to get it off the ground faster.
But let's not get ahead of ourselves!
So without further-a-do, here are my top home businesses for moms…
My Top 9 Home Business Ideas for Stay-at-Home Moms
Business Ideas 1-6 are online businesses and 7-9 are offline business ideas
1. Start a Freelancing Service
What skills do you have? What can you do which you could offer in exchange for money?
Customer Service
Bookkeeping
Translation
Typing
Graphic design etc..
So here you would be a freelancer, offering a freelance service to clients. With this type of work, you could land yourself a small handful of regular clients and therefore receive a regular monthly income.
Cost To Get Started: $0-$50
You can setup a profile on freelancing websites such as www.fivver.com and www.upwork.com to sell your service. There are others, but those two are the main ones.
You could also get on social media (including LinkedIn) and mention your services there. Facebook groups are also a good place to socialize and get clients.
So that's four, very different home business ideas for housewives which are based offline. Now we'll move into the online business business space and blogging is a great online business idea to start with.
2. eCommerce Store
Women love to shop online as it's so convenient and you get a much wider selection of goods.  And there are many new ecommerce stores popping up each day.
Typically, you would purchase wholesale goods in large quantities, list them in your store, and begin selling.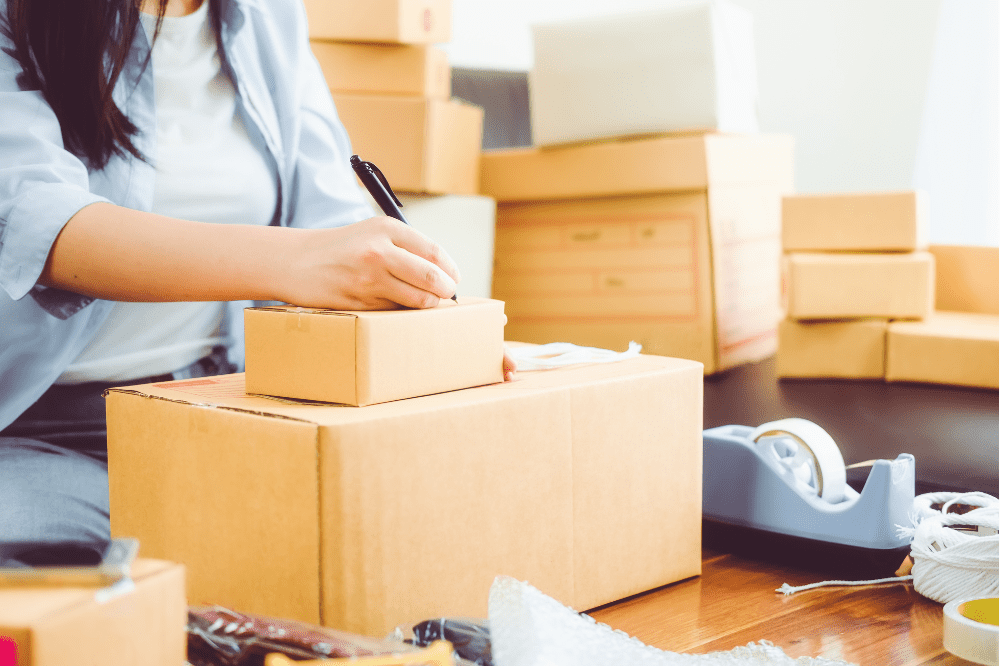 Of course, you can produce your own goods, like knitted clothing and jewelry, and then advertise them online.
The last option is dropshipping, where you don't keep any inventory and only order an item to be shipped to a buyer after they have first made a purchase from your business. Here is an article on dropshipping from Shopify because I realize this seems confusing.
I understand that operating an ecommerce store sounds thrilling and entertaining (and it can be), but please be cautious and aware that online stores, in any category, are extremely competitive and it can be very hard for your shop to get seen, and get seen enough times, to start making daily sales.
Cost To Get Started: $0-$100
There are many online store platforms today with Shopify being one of the main ones where you can get started for as little as $20 a month.
3. Blogging for Money
Blogging is a great online business where you can start earning passive income.
Yes you still have to write blog posts and do some other form of marketing to get your blog noticed, but once monetization is added to your blog, then you can literally make money while you sleep and when you're on vacation.
Blogging could easily be carried out at home on your laptop sporadically throughout the day around your employment or family life.
You could start a blog on subjects such as:
Start a food blog
How to be a homemaker
Pregnancy / Parenting
How to organize and declutter your home
A sewing blog (or knitting, crochet etc)
Cost To Get Started: $0-$20
All you need is to buy a domain and get some cheap web hosting to start off with. You can use the WordPress software normally provided for free with most web-hosting services.
4. Freelance Writing
Freelance writing is in big demand online as there are so many blogs and online businesses who don't want to write their own content that they are more than happy to hire freelance writers to do this for them.
The great thing about online freelance writing is that you don't have to be a trained writer, and you definitely don't need to have a degree in English to get started. Online content writing is very easy to create because you write as if you're just speaking to someone one-on-one (like I'm writing to you now).
It's best to choose a niche and subject area to focus on, so it shows that you're a specialist in that particular subject area, for example:
Gardening
Beauty
Personal Finance
Health & Fitness
Home Decor
Travel
Camping
Cost To Get Started: $00.00
You can definitely start with zero money, I've seen this happen time and time again. You simply identify what sector you would like to write for and then compose an email outlining your services and then send out dozens of those emails each week until you fill your client quota.
5. Proofreading
If you're good with spelling and grammar, then I think that this is a great little business to run from home – and it can very profitable too!
Here you would do freelancing proofreading, so you will be self-employed running your own freelance proofreading business. Doing it this way, you can easily earn a full-time income only working part-time hours as you could charge anywhere from – per hour for your proofreading services.
For further information on this, visit Proof Read Anywhere where you'll be able to watch a free video on this business model.
Cost To Get Started: $100
You might want to pay for a course on how to start and run a freelance proofreading business, so you will have to take that cost into consideration, but after that there are ways to do free online marketing to get clients (which is covered in the course).
6. Virtual Assistant
And lastly, I want to show you the virtual assistant business model.
As I've just mentioned above, there are thousands (upon thousands) of bloggers and online businesses where they really need a helping hand with some of their online business tasks, and this is where virtual assistants come in.
Although there are also thousands of virtual assistants, there will always be a need for more. The other good news is that the spectrum for virtual assistant services is massive.
You can do general admin work, email customer service, typing & transcription (transcription of audio podcasts for example), bookkeeping and graphic design, just to name a few.
Cost To Get Started: $00.00
A good place to start to get clients for free is from Women in Business / Female Entrepreneur Facebook groups. It does take a bit of networking, but you should be able to pick up a couple of clients with daily networking in these type of groups.
7. Ironing Service
Do you love to iron? Some people actually find ironing therapeutic, so wouldn't it be amazing to earn a decent income simply by ironing other peoples' clothes?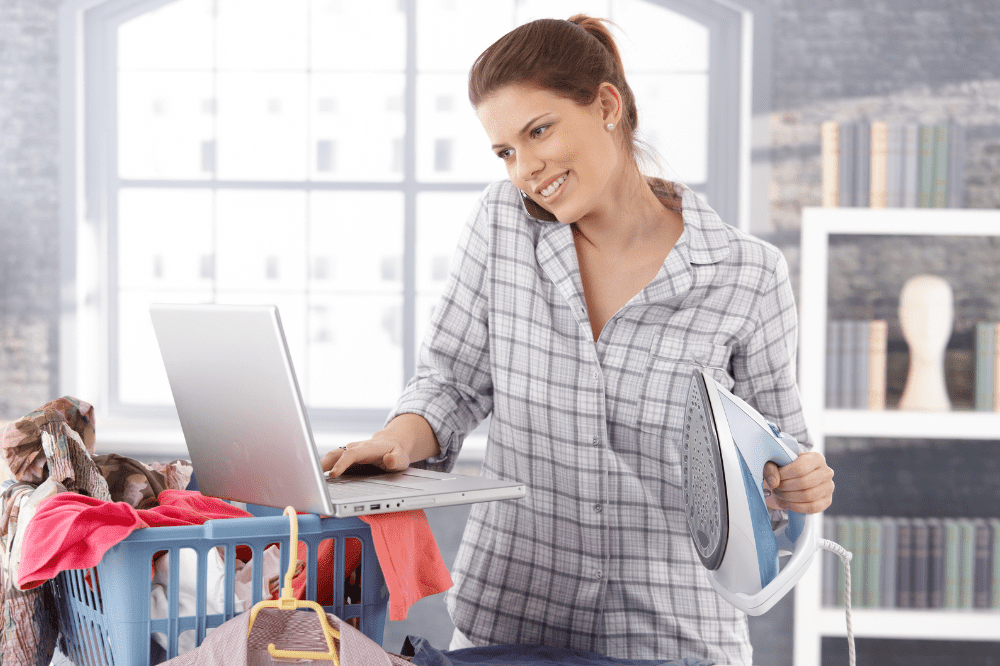 Everyone seems so busy (and under pressure) these days, and some people absolutely hate ironing, or they don't have the time for it. In fact, some people can't even iron – I'm thinking more along the lines of men who wear shirts and suits for work – so offering an ironing service to busy professionals would be a welcome relief for some.
Cost To Get Started: $0-$100
You can literally start with no money by word of mouth and via social media. Facebook is a good option as it allows you to create a new business page where you can post and keep people updated with your ironing service news.
But to get started and earning money within a few days, your best option would be to get some leaflets printed and to put them through the doors of people who would need your service the most. Is there a housing estate / area where you know that many professional live? Then you should target these areas with your leaflets.
8. Baking/Cake Decorating
Love to bake and/or decorate cakes?
This is a great little business to do from home if you love to bake. I would start simple and just offer one or two bakes to get yourself off the ground.
For example, you could only offer to bake and decorate celebration cakes, such as
Children's birthday cakes.
Adult birthday cakes.
Weddings, anniversaries etc..
And/or you could also bake the very popular cup cake and sell them in sets of four, six or eight etc..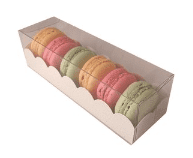 I've also noticed that macarons have become very popular lately, so you could offer to bake sets of 6 macarons (in different flavors and colors) and put them in a box ready for collection or to deliver by post.
Have a bit search online and see what other people are doing and selling when it comes to offering baked goods.
Cost To Get Started: $0-$50
Free word-of-mouth via Facebook or Instagram. You would then obviously need to buy the ingredients and any equipment and packaging to get started.
Related Reading: How To Start a Cake Business from Home
9. Sewing Alterations
If you can sew, then you could offer a sewing alterations service.
I've personally paid someone to take up curtain hems and had my son's suit altered for a wedding, so I know that this has the potential to be a good little money earner.
Cost To Get Started: $0-$100
Very similar to the ironing service above. Use social media for free word-of-mouth advertising and/or get some leaflets printed and put them through letter boxes.
10. Gift Baskets
There is a big demand for unique, distinctive and personalized gifts, and so a gift basket business is an ?? business as it can fulfill these consumer needs.
You can decide to focus on a specific kind of basket, such as baby baskets, wine, cheese, gourmet food baskets, spa baskets, or baskets filled with snacks and treats.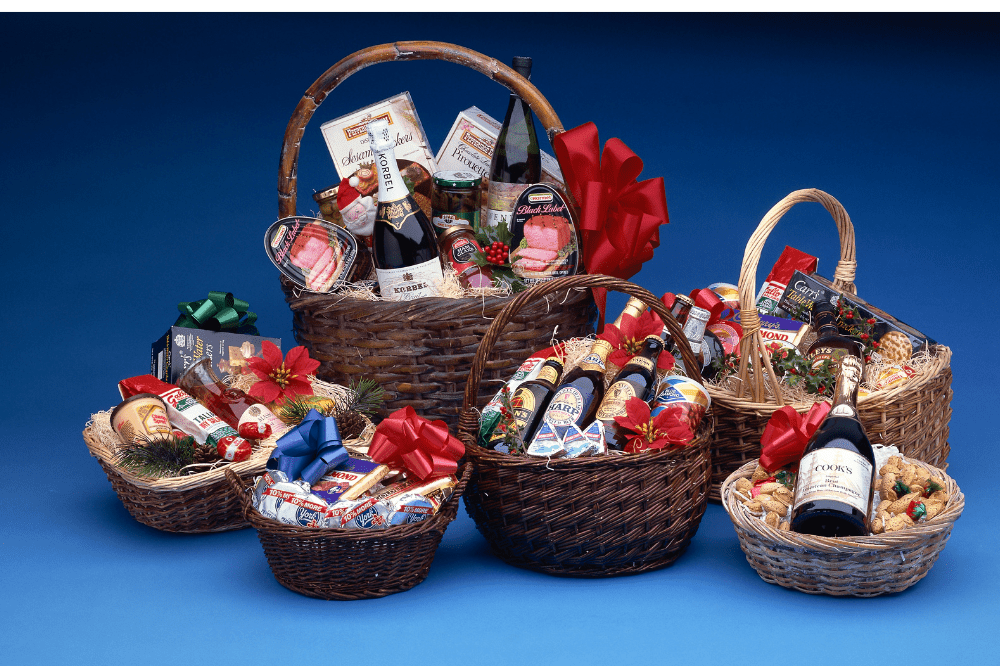 Starting a business selling gift baskets also offers the opportunity for creativity and customization because you can tailor each basket to the unique requirements and preferences of your clients.
You can access a sizable customer base thanks to the ease of internet buying, and you can even provide delivery services to make gift-giving even more pleasant for your clients.
Starting a gift basket business can be a lucrative and rewarding career with the right preparation and execution.
I found this website which is specifically dedicated to help people start up their own gift basket business.
11.  Making & Selling Jewelry
If you're creative and love to make things, then you could make and sell your own jewelry.
Don't worry if you don't have a background in jewelry design; as you can easily pick up the skills you need as you go along and there are many resources and jewelry kits available to help you get started. 
Tip: Start by looking on YouTube
You can choose to create one-of-a-kind pieces using a variety of materials, such as beads, wire, and gems. You can also specialize in specific types of jewelry, such as bracelets, necklaces, or earrings. You can even take it a step further and specialize on a certain theme such as bohemian, celtic, small and simple or big and garish!
To reach customers; you can sell your jewelry through local markets, trade fairs, online marketplaces, or even open your own store.
Building a strong brand and establishing yourself as a reputable jewelry maker is the key to success. With hard work and dedication, making and selling jewelry can be a fulfilling and profitable business opportunity.
Tips To Help You Choose The Best Business Idea for You
When choosing a home business, its important to consider your personal interests, skills, and experience. This will ensure that you're passionate about the work you are doing, and have the knowledge and skills necessary to be successful.
Also, consider what you're knowledgeable about, what you enjoy doing, and what skills you have that could be valuable to others?
This will give you a starting point for finding a home business that is a good fit for you.
It's also important to do your research and evaluate the market demand for the type of business you're considering. Look into factors such as the competition, target audience, and costs involved in starting and running the business.
Make sure that there is a market for your product or service and that you have a plan for reaching your target customers. It is also important to consider the financial aspect of your business and to have a solid plan in place for how you will generate income. This will help you determine if your business idea is viable and if you will be able to make a living from it.
So there you have it, my top eleven pick of home business ideas for stay-at-home moms.
Did you find a business idea which you would like to do?
If nothing jumped out at you, then head over to my more in-depth article outlining 47 home business ideas for women, where I go over a bigger variety of businesses which you can carry out which are home-based.
Good luck in whatever you choose to do!
Hi, I'm Claire Bullerwell
I've ran dozens of home-based businesses, both offline and online, since my early twenties. I started this blog to share all my wealth of knowledge and experience to help women just like you; to find your dream home business. Fill that empty nest, work around your menopause and just live your best life at 50 something!
Follow me and let's get acquainted…