Cake decorating is fun!
And it get's even more fun when you can profit from it with your own home cake business.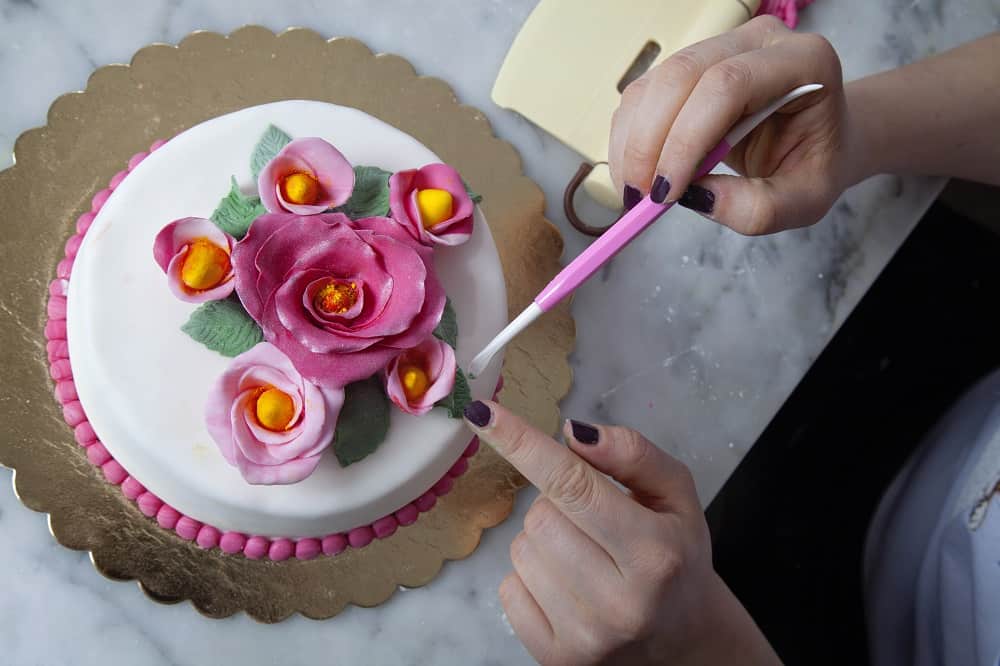 Nearly all cake decorators start out as a hobby, some people start cake decorating because they have young children and they start making specialty birthday cakes for them.
Then at the birthday party all the other moms see their wonderful masterpiece and before they know it, they have two or three new orders.
Or you may not have children.  You maybe just took a cake decorating class for enjoyment, found you had a talent in it and then the orders came flying in as per a similar example above.
Whatever the reason, you're hear because you enjoy decorating cakes, you have a talent for it and now you're thinking of making this hobby into a business, whether that be a sideline or a full-time business.
How To Turn Your Cake Decorating Hobby Into A Business
At this point you probably aren't making much of a profit on your cakes.  This is because you're doing this as a 'favor' for friends and family and friends of friends of friends – but where does it end?
You're run ragged, stressed out and maybe making only a few pounds pocket money along the way.  If you're going to be this busy and stressed (but also enjoying every minute of it), you may as well start making at least a half-decent income from this hobby of yours.
Seven Steps To Get Started:
Step 1 – Permits & Regulations
Seek advice from your local authority (or State if in the US) to any food-related permits or special regulations you need to operate this business legally from your home.  This will especially apply to your kitchen where it may have to be modified. Further inspections may occur from time to time to ensure that you are complying with the regulated health codes.
Step 2 – Business Legalities
In the UK you must register your business with the Inland Revenue within three months of your business launching.  In the States you need to register your business, and business name, immediately with the IRS and gain a business tax registration code.  Please check your individual State or country to see the requirements in your town.
Make sure you look into all other business legalities such as Insurance, setting up a business bank account and health & safety.
Step 3 – Stocking Up
Make sure your kitchen is fully equipped and you have all the major cake decorating ingredients in – this includes cake boxes.
Step 4 – Portfolio/Website
Create a portfolio of your cake designs and put enlarged photo's in a photo album.  Keep adding to this portfolio to show potential clients.  You may want to think about setting up a small website to show-case your cakes and provide pricing or at least contact details.  You can use your website address (domain name) on all your other advertising materials.
Tip:  If you don't want to set up a website, you could open a Business Page on Facebook and upload all your cake photographs there!  You can then easily promote your cake business to all your friends with a press of a button on Facebook (which will go viral very quickly).
Go here for more information on Facebook Business Pages.  You would then end up with a domain such as www.facebook.com/noveltycakes
Step 5 – Advertising
Do one or more of the following:
#1   Contact your local newspapers or news release services to let them know about your business opening.  You may have to do this by submitting a press release in the first instance.
#2   Create flyers displaying pictures and descriptions of your services along with your contact details or website/facebook address.
#3   Print business cards to hand out to potential clients, you can get free business cards from:
 www.vistaprint.co.uk – www.vistaprint.com
#4   Generally spread the word about your new business venture:
Contact local wedding and event planners
Join the Chamber of Commerce
Consider contacting large Human Resource Departments and offer to bake cakes for corporate events.
Step 6 – Be Organised
Keep a good diary system (either on paper or software), set up a book-keeping system and also a general admin/filing system for invoices and client records etc..
Step 7 – Additional Help
You may want to eventually think about hiring a part-time helper to help you decorate the cakes and/or load and accompany them to their destinations.
Pro's of Running A Cake Decorating Business
Here are some pro's of running your own business:
Orders can be very varied and hardly ever boring;
You can still do the school runs and be there for your children during sickness and school holidays;
You can schedule yourself some 'me time' if you wish;
You can work at your own pace and hours (you don't have to take all orders);
The overhead expenses are relatively low compared to working in a commercial location;
The social aspect of it can be warm, friendly and fun with your (mostly) lovely customers;
If you're not too busy – who says you have to bake a cake that day?
Con's of Running A Cake Decorating Business
Now for the con's.  However, you might not find these as con's as everyone is different!
You may have to do some major adaptation in your home in order to meet the specific requirements, i.e. may need a separate kitchen and/or entrance lobby;
You may also need extra storage space and this could be an ongoing concern;
Weekend work.  Most parties, weddings and special celebrations are held on a weekend.  You may be tied up to meet these demands, however you can certainly plan ahead to avoid weekend work;
You will probably get 'spot' health & safety checks from your local authority;
You need to keep up with the latest techniques and equipment, therefore more money needs to be spent on additional courses and purchasing equipment.
I think the above just goes with the nature of the business.  It's food-related, so it has to have the utmost highest standards of hygiene and you have to keep up with best practices and stay in front of your target audience.
Additional Tips
Here are some common myths debunked and home-truths explained about running your own cake business:
Cake business owners are very busy, they don't just pop a cake in the oven then go and watch 'Loose Women'.
Don't give away your secret recipes – do you know the exact recipe of a Greggs' sausage roll?
Don't try and compete with the prices of birthday cakes from Tesco or Asda, and let your customers know about this.  You are providing a cake made-to-order service and people have to pay for this privilege!
Orders must be placed at least two days prior to the event – you cannot make a cake with a few hours notice.
#
I also have a list of 47 home business ideas for women if you want to take a look at them first before you decide to charge ahead with your own cake decorating business.
Hi, I'm Claire Bullerwell
I've ran dozens of home-based businesses, both offline and online, since my early twenties. I started this blog to share all my wealth of knowledge and experience to help women just like you; to find your dream home business. Fill that empty nest, work around your menopause and just live your best life at 50 something!
Follow me and let's get acquainted…