I'm in my early fifties and I finally feel content and at peace with my chosen home business.
But that was never the case for years. Yes, YEARS!
From the age of around 24 I knew that I wanted to start a business working from home – but the big question was; what type of home business to start?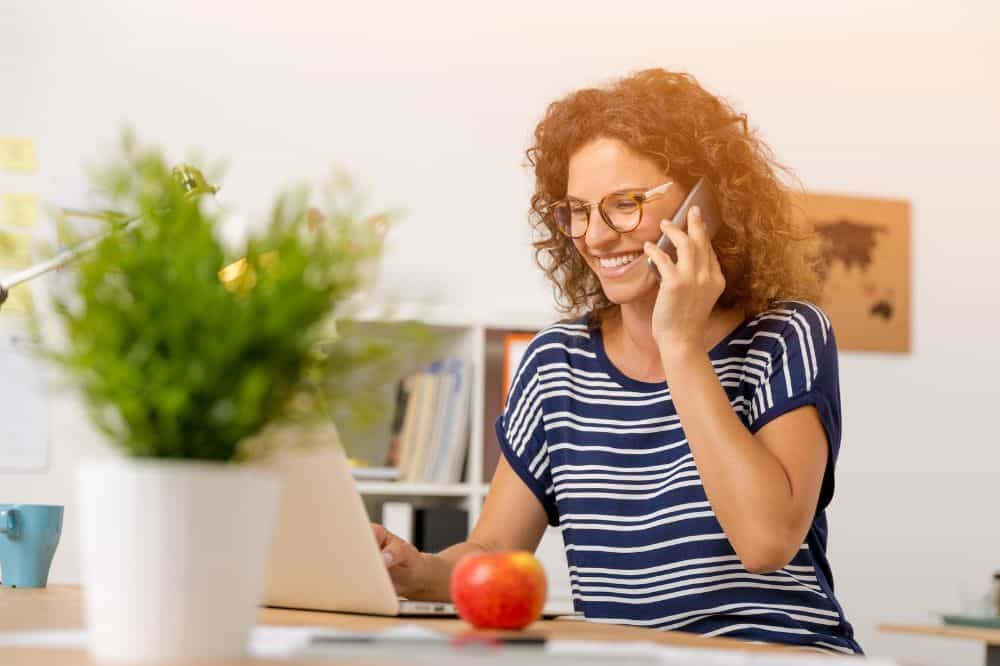 Now, you need to realize that back then (in the early 1990's) the Internet wasn't really a 'thing', so this limited my opportunities considerably.
►  You can read about my home business ventures here
But now, thanks to the Internet, there are so many home businesses to start; that the variety is huge and you would be pretty hard-pushed not to find a home business which suits you.
But because there are so many opportunities open to us, that this can easily cause a new problem.
New Problem >> Information overload and overwhelm.
I have listed 70+ home business ideas for women over 50 plus a self-assessment exercise in my
Home Business Roadmap
ebook. For more information
click here
.
So if you're wanting to start a home business now, when you're in your wonderful 50's, then you might be encountering all these problems:
Problem #1: What home businesses are there to start in my fifties?
Problem #2: Should I start an online business or an offline business?
Problem #3: There's too much information and I feel overwhelmed.
Problem #4: I don't have much money for startup investment.
Problem #5: I'm scared in case I choose the wrong type of home business.
So if this is you my friend, then let me help you out a bit.
Here are my top 17 home business ideas for women over 50.
There's a mixture of business ideas both online and offline, to give you a good sense of what what you can do based on your personality and lifestyle.
And that's another problem I see.
People choose a home business because they see someone else being successful at it. This is the wrong approach.
You absolutely MUST do a self-assessment first, before you start looking for home business ideas.
So if you haven't done a self-assessment, then do one now and then come back to this page.
Related reading: Why being 50+ is the best time to start a home business
All these business ideas are specifically for ladies (sorry any men reading this) and with low investment.
17 Home Business Ideas for Women Over 50
I'll start of with online home business ideas, then go into businesses which are offline but you you can operate from home.
All of these businesses you can start with $100 or less. In fact, you can even start some of these with no money at all.
Starting a home business really does only need very low investment, just make sure you choose a business which is suited to you.
Online Home Business Ideas
1. Proofreader
If you have a good grasp of English, spelling and grammar and are an avid reader, then this is a perfect home business for you.
I actually toyed with this business idea myself, but I think I fall just that little bit short on my grammar (please don't proofread and analyze this blog post :))
This is the ultimate relaxing home business where you can sit in a comfortable chair to read and edit content with a cup of coffee.
Further Information: I've seen a lot of Proofread Anywhere all over the Internet, this course has amazing testimonials and results.
2. Freelance Writing
And before you ask… no, no you don't need any formal writing training or any experience.
You do need a good grasp of English with good spelling, grammar and punctuation, but apart from that you can certainly start a freelance writing business in your 50's.
I've done a stint of freelance writing and the best advice I can give you is to niche down.
For example, if you have experience in the medical field, then choose that but niche down even further.
What experience do you have that you can write about?
Health Care
Healthy Eating & Nutrition
Exercise & Fitness
Personal Finance
… the list can go on and on.
Then choose which type of writing do you want to do?
Blog Posts
Online Magazine Articles
White Papers
A freelance writing business is a great way to make some good money simply by writing for other people about what you already know about!
Further Information: Watch the free workshop by Holly Johnson on how to build a six-figure freelance writing business.
3. Open an Etsy Store
If you're creative and make jewelry, knit, crochet, sew etc., there are websites such as Etsy where you can quickly and very inexpensively open up a store and start selling your handmade wares. Or you could sell them on auction websites such as eBay.
Investment Needed: As of writing this, Etsy charges you .20p to upload and list each item. There are other fees included in each sale, but they only apply when you actually sell any items.
4. Create and Sell Printables on Etsy
You can also create and sell digital items on Etsy such as PDF printables, digital pictures, downloadable stationery etc.
More Information: Look on YouTube as there are dozens of very helpful videos showing you how to open up an Etsy store selling printables.
5. Create and Sell Low Content Books on Amazon
Low content books are classed as journals, planners, coloring books etc.
This is another thing I'm currently testing out too. This is all in my quest for earning passive income so I can semi-retire!
Back in 2012 I used to self-publish and sell 'how to' ebooks on Amazon. I done pretty well; but after a while the books needed to be updated and I had too much personal stuff going on in my life at that time so I just closed my Amazon authors account down.
I'm now giving it another go by uploading a couple of 'how to' ebooks and some 'low content' books such as planners.
More Information: Again, look on YouTube as there are dozens of very helpful videos showing you how to sell low content books on Amazon KDP – Kindle Direct Publishing.
6. Virtual Bookkeeper
This comes down to honing in on your expertise.
If you've got a bookkeeping or accounting qualification, and you've done this type of work as a job, then why not use these same skills and start your own bookkeeping / accounting business?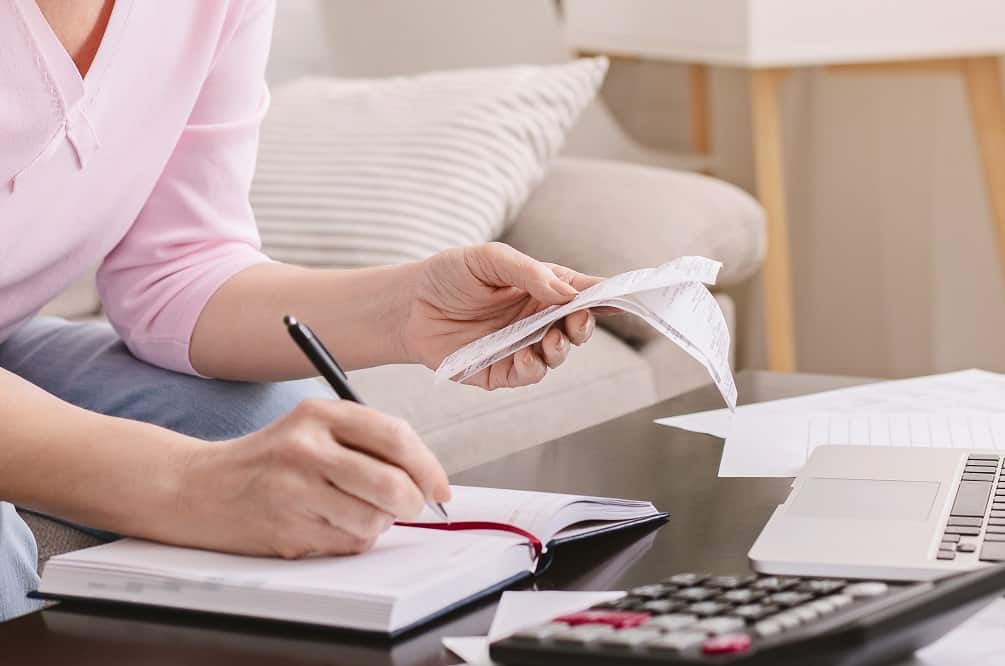 Because of the massive rise of people wanting to work from home and starting their own business, then bookkeeping services are in big demand.
You could target a specific target market either offline or online.
Further Information: Here's a great resource showing you how to become a Virtual Bookkeeper.
7. Virtual Assistant
A virtual assistant is where you do certain tasks to help out a company, business or an individual entrepreneur – all from the comfort of your own home.
Virtual assistants are becoming increasingly in demand because there are more and more people starting businesses, especially online businesses.
Virtual assistant tasks can range anywhere from email customer support, creating graphics, technical, to social media management – the range of tasks is massive.
As a freelance virtual assistant you offer services which you are good at and which you enjoy.
However, being a virtual assistant in your fifties may, or may not, be a good fit for you. It really depends on your personality.
Would you be happy taking orders from others?
How would you be able to handle strict deadlines?
Can you work under pressure?
Do you want to work under pressure?
How would you handle awkward clients?
How would you feel about marketing yourself to get clients?
I don't want to try and put you off, but I don't want to gloss over the idea that becoming a virtual assistant is a great little business to set up for yourself when clearly there are many downsides to it as well as upsides.
Further Information: The Virtual Savvy is an online program to fast track you to become a superstar VA.
8. Coach / Consultant
There are literally thousands of coaches online but they're also in great demand too as you have a world-wide customer base. Because thanks to software such as Zoom, you can do personal one-to-one coaching lessons online, so your clients can be based anywhere in the world and it won't make a difference (well, apart from the time difference).
So if you have specialized knowledge in a certain subject or niche, then how would you feel about coaching / mentoring others on a one-to-one basis?
Subject matters and niches for coaching:
Weight Loss for Women
Fitness for Women
Life Coach
Mindset
Self-Esteem & Confidence
Spiritual
You can make a lot of money being a coach because you are working one-on-one with people.
9. Create and Sell an eBook
This is my specialty area!
I've written and sold 12 'how to' ebooks over the past fifteen years.
… this is my latest ebook > The Home Business Roadmap
If you know that you can solve someone else's problem on a particular subject, then write an ebook and sell it.
The topic of your ebook should be very linear and focused on only one problem.
eBook topic examples:
How To Cure Adult Acne
How To Grow Roses
How To Declutter Your Kitchen
How To Lose Tummy Fat
Writing an ebook is as easy as opening Word or a Google Doc and just start typing.
However, it's not exactly as simple as that because you have to have a good idea that people are willing to buy it and then there's the actual selling of your ebook. But creating a digital product such as an ebook is a relatively easy way to make passive income.
More Information: Become a bestselling author by following the eBook Bestseller Bootcamp by Ana Skyes
10. Create and Sell an Online Course
This is similar to creating an ebook, but on a much bigger scale.
An ebook solves one very specific problem, whereas a course covers a whole subject area.
I know that creating a course sounds very daunting, and it is, but it doesn't have to be video based so you can cut out a lot of the technical side of things.
You can create a course purely with text. Think of this type of text-based course as a long ebook, it's just that the format is different. An ebook is a PDF document, whereas a text-based course is in a course format with modules and lessons.
There are many, many people (especially women aged 50 plus) actually prefer to read and skim text rather than sit through and watch a video – I know I do!
Do you know a whole subject area where you could teach people how to do something?
More Information: Use an online course platform such as Teachable  or Thinkfic – they also have great teaching resources to help you create your course.
Offline Home Business Ideas
11. House Cleaning
If you're fit and healthy and want a workout as you work, then start a physically demanding business such as house cleaning.
You can start a house cleaning business as a little side-hustle, or grow it into something much bigger.
You can actually earn up to $600 per week if you put in the hours, but you can easily make $200+ per week working only a few hours per week; which is much more manageable.
Investment Needed: You can start with a budget of $0.00 if you use your customers' cleaning products and use word-of-mouth as your marketing.
If you have $50-$100 to use as a low investment, then you can pay for some flyers to be printed and buy a few essential cleaning products.
Related Reading:
12. Dog Walking
If you have a love for dogs and enjoy walking, then why not combine these two and start your own dog walking business.
This is a great business for women in their 50's because it keeps you fit, gets you out and about outside whilst earning a good little salary.
Investment Needed: This is similar to the house cleaning business, you can start with zero money by using word or mouth marketing, or pay to get flyers printed.
Related Reading: How To Start a Dog Walking Business
13. Cake Decorating
Do you like to decorate special occasion cakes? You know, the fancy themed ones for kids birthday's, or pretty sophisticated ones for older birthday's and anniversaries.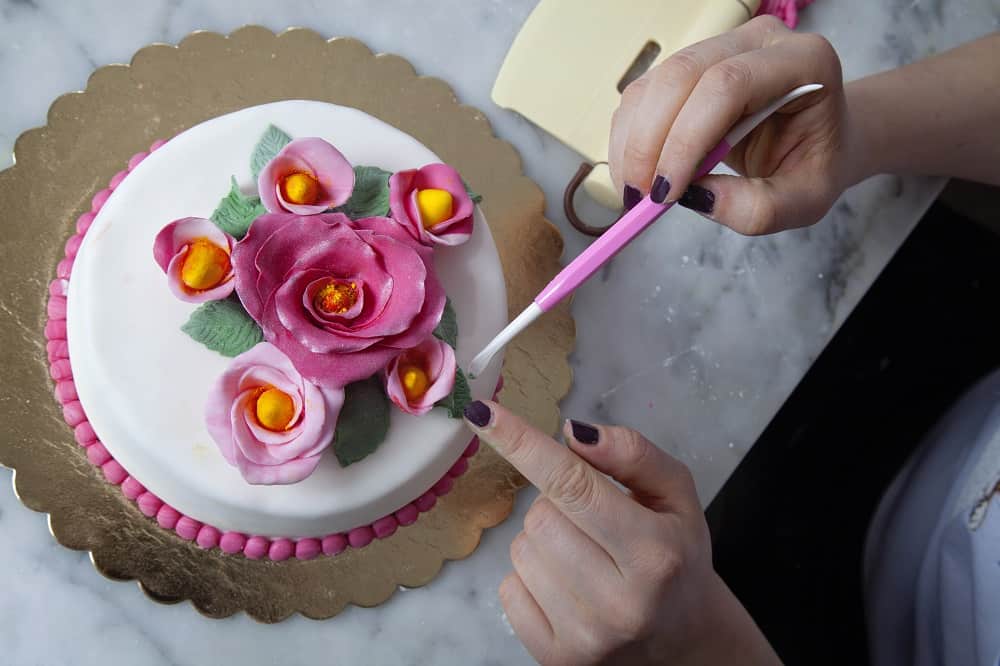 If you have this very clever and creative skill, then why not take it more serious and create a business around it?
Investment Needed: The cost of the equipment and ingredients.
Related Reading: How To Start a Cake Business from Home
14. Home Baking
If you're good at baking cakes or specialty breads or making savouries such as sausage rolls and pies (or the vegetarian/vegan equivalent), then you could set up your own little bakery business from home.
You could do one-off sales for customers or bake and sell to local cafe's or bakery shops. You could even open up your own catering business.
Tip: Open up a free Facebook business page and/or Instagram account to help spread the word.
Investment Needed: The cost of baking equipment and ingredients.
15. Crafts
If you're a creative person who loves to create jewelry, sew and make clothes, knit, crochet or do any other type of  hand-made creation, then you can turn this creative hobby into a business.
You can sell your items at local fairs and trade shows if you love the buzz and social aspect of setting up a stall and talking and dealing with the general public.
You could also approach little local specialist artisan shops and ask if you could sell your items to them at wholesale price to sell in their shop.
16. Sewing Alterations
I know a lady who, in her 50's, was made redundant from her factory sewing job and started doing sewing alterations from home.
It all started when friends and family asked her to do clothing alterations and they would pay her for her thread and time. Then word-of-mouth started to circulate and before she knew it, she was earning a nice little side-income from something which she previously done as a job for over 30 years.
If you're a dab-hand with a sewing machine and a tape measure, then this might be the home business for you.
17. Direct Marketing
This is a popular business oldy!
Direct sales has been around for years and years; but it has also garnered a bit of a bad reputation too.
The bad reputation comes from multi-level marketing companies which have a a pyramid scheme business model, and some direct sales reps being too pushy,
But the good news is that there are many new companies offering direct selling opportunities specifically for women, even for women over the age of 50, such as  selling skin care and cosmetics for the 50+ woman.
So if you're a people person, then direct marketing could be the business model for you.
I don't have any specific companies in mind to refer you to, but do some research (Googling!) and you'll soon find a bunch of companies which you might want to seriously consider.
Insurance & Permits
When you do find your perfect home business, make sure that you investigate if you require any specific insurance or permits.
Related Reading:
17 Home Business Ideas for Women Over 50
So that's my top picks for you to start a home business now you're in your fabulous 50s.
Here's the list of the 17 again:
#1 Proofreader
#2 Freelance Writer
#3 Etsy Store: Crafts
#4 Etsy Store: Printables
#5 Amazon KDP
#6 Virtual Bookkeeper
#7 Virtual Assistant
#8 Coach/Consultant
#9 Create & Sell an eBook
#10 Create & Sell an Online Course
#11 House Cleaning
#12 Dog Walking
#13 Cake Decorating
#14 Home Baking
#15 Crafts
#16 Sewing Alterations
#17 Direct Marketing
I have more home business ideas for women of all ages, no matter what your life circumstances are, so you might find something on that list which isn't isn't listed here.
Related Reading: 47 Home Business Ideas for Women
What Next?
I have a list of 70+ home business ideas inside my Home Business Roadmap ebook.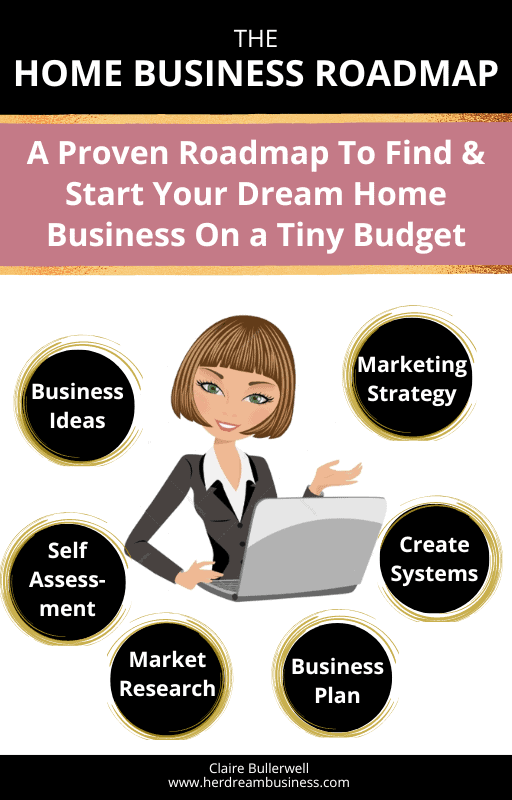 The ebook also includes some self-assessment exercises to help you find a home business which suits you. This is extremely important because you don't want to waste time, effort and money on starting a home business which doesn't suit you.
Go here to learn more about how the Home Business Roadmap can help you find and start your dream home business…
► The Home Business Roadmap for Women in Their Fabulous 50's
Hi, I'm Claire Bullerwell
I've ran dozens of home-based businesses, both offline and online, since my early twenties. I started this blog to share all my wealth of knowledge and experience to help women just like you; to find your dream home business. Fill that empty nest, work around your menopause and just live your best life at 50 something!
Follow me and let's get acquainted…