Are you a woman looking to start an online business from home?
I've ran various different online businesses over the years, and so I thought I would share my top 11 most profitable online business ideas with you today.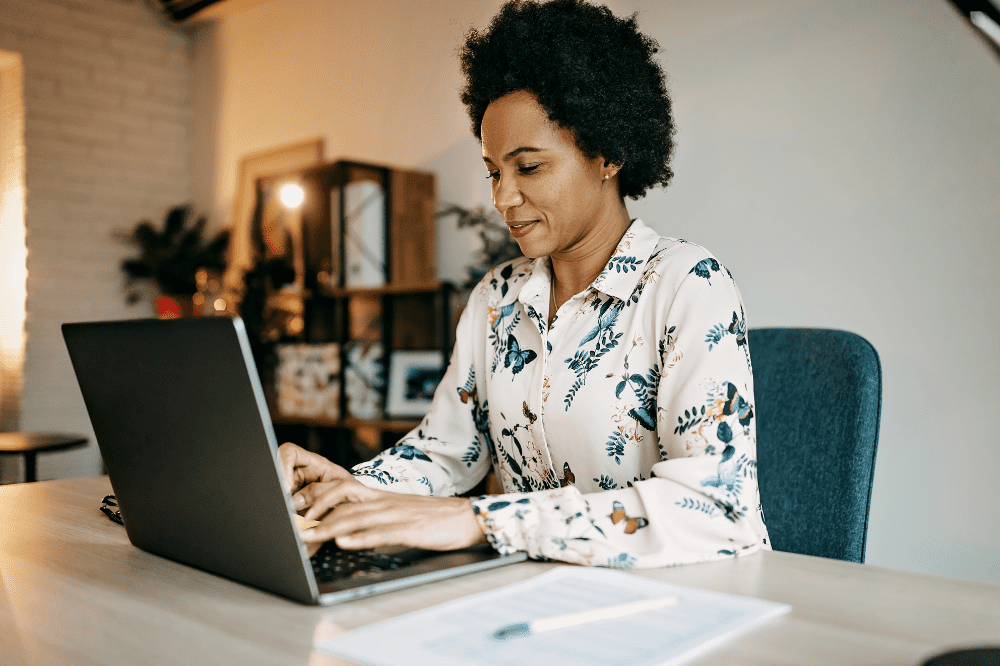 This post may contain affiliate links. Please see our disclosure policy for more information.
Before we get into the online business ideas, I just want to say that you don't need any prior experience to run any of them.
Yes there will be a steep learning curve, but that's what you would expect anyway with starting a new business.
So with that said, here are the 11 online business ideas:
Selling Digital Products
Dropshipping with Shopify
Open an Etsy Store
Blogging & Content Creation
Consulting or Coaching
Social Media Management
Freelance Writing
Proofreading
Virtual Assistant Services
Online Tutoring
Freelancing
ONLINE BUSINESS IDEAS FOR WOMEN
1) Selling Digital Products
Creating and selling digital products can be a great way for women to start their own online business.
ppp
Here are three popular ways to sell digital products:
Create an Online Course
With platforms such as Teachable and Thinkific, creating your own online course has never been easier!
This option allows you to make money by teaching others about topics that you're passionate about.
eBooks
ddd
Printables
dd
Sell Downloadable Products
If you have graphic design skills or creative ideas for printables like planners or greeting cards, consider setting up shop on Etsy to share your art with others around the world!
No matter what kind of digital service or product you decide to offer, having an understanding of marketing strategies will help get your offerings in front of potential customers. Utilizing SEO techniques along with email campaigns can help drive traffic back to your site— allowing you to build an audience quickly. As long as you stay organized and keep track of everything related to running your business—you should find success in no time!
2) Dropshipping With Shopify
eCommerce Store
Dropshipping with Shopify is a goldmine for female entrepreneurs. It's like striking it rich, as you can start an online store in no time and have items delivered directly to your customers without ever having to manage inventory or ship out orders yourself!
With Shopify, all you need is the idea of what product(s) you want to sell, the ability to find reliable suppliers, and then create your own website storefront. As soon as someone places an order on your site, that order gets sent directly to the supplier who will take care of packaging up the item and shipping it out – leaving you free to focus on marketing and growing your business.
The beauty of dropshipping with Shopify is that there are virtually unlimited opportunities available, from selling handmade jewelry or unique vintage finds – both sourced from around the world – to launching a digital marketplace offering digital products such as ebooks or music files.
You also don't need any special skills; anyone can get started right away by taking advantage of the platform's easy-to-use drag-and-drop tools which make creating a beautiful website quick and simple. Plus once everything is set up, running a successful dropshipping business requires relatively little effort since most of the work has already been done for you! Allowing women entrepreneurs more freedom than ever before to launch their dream businesses and achieve success on their own terms.
ONLINE BUSINESS IDEAS FOR WOMEN
3) Etsy Store
eCommerce Store
Moving from dropshipping with Shopify to creating an Etsy store is a great online business idea for women. It allows them to monetize their creative passion and build a sustainable, profitable business. An Etsy store provides entrepreneurs the opportunity to sell handmade products directly to customers worldwide. With easy-to-use tools, it's simple to create your own ecommerce shop and start selling quickly.
What's more, setting up an Etsy store requires minimal investment and can be done in just a few steps. You'll need to open an account on Etsy and then create product listings that showcase its features accurately. You also have options such as adding descriptions and images of items you want to list on your store. Additionally, you must provide payment processing details so customers can purchase items smoothly without any hassle. Once all these tasks are completed, you're ready to launch your Etsy store and begin marketing it effectively!
4) Blogging And Content Creation
Blogging and content creation are excellent online business opportunities for women. Not only do you get to express yourself, but it's also a great way to make money from home. Here is an overview of the benefits that come with running your own blog or creating content:
When starting out as a blogger or content creator, there are several ways to monetize your work. You can use affiliate marketing, create sponsored posts, offer digital products such as ebooks and courses, promote services, and more! With so many options available, it's easy to find something that fits your goals. Additionally, blogging offers plenty of freedom in terms of topics and writing styles; this means you can write about anything under the sun while still making a profit! Finally, having control over what you produce allows you to serve others through creative solutions they would otherwise never discover.
5) Consulting Or Coaching Services
Believing in oneself and having the courage to share one's knowledge with others can bring great rewards. While it may seem that blogging and content creation are easy paths to success, consulting or coaching services provide a more direct route for many women looking to start their own online business.
These types of businesses have become increasingly popular as technological advances make it easier than ever to reach potential clients virtually. Not only do they offer an opportunity to use your expertise while helping others achieve success, but they also often require less upfront investment than other forms of entrepreneurship. With an engaged client base, you can easily create a profitable venture from home without needing any large startup costs or complicated processes.
Whether you specialize in career advice, fitness instruction, health counseling, or another area of expertise, there is a wide range of possibilities available for those who wish to monetize their skillset through virtual consultations or sessions. By combining creativity and practicality into your approach, you can build an innovative business that caters both to your passions and the needs of customers around the world. Your unique perspective will be invaluable when finding solutions for people seeking guidance – so don't hesitate to take advantage of this amazing chance!
ONLINE BUSINESS IDEAS FOR WOMEN
6) Social Media Management
Women are increasingly becoming social media managers for small businesses. This is a great opportunity to show off your knowledge of the latest trends in business marketing, as well as connect with potential customers from around the world. With this job you can create content such as blog posts and videos that promote products or services within an organization's target audience. You'll also be able to provide customer service on multiple platforms, track analytics to improve campaigns, and find opportunities for partnerships.
It's important to know how each platform works so that you're able to use it most effectively when managing accounts. As a woman-owned business owner, it's essential to have strong communication skills and understand what digital solutions work best for your clients' needs. Having experience in digital marketing will give you a competitive edge over other applicants who don't have any formal education in the field. Finally, staying up-to-date on new technologies and online tools is another key factor that will help you succeed in this career.
7) Freelance Writer
Do you have a way with words? Are your friends always asking you to write their love letters and help them craft the perfect Tinder bio? If so, then freelance writing might be the ideal online business for you!
It's true – while some people might think of it as just scribbling away in front of a computer screen all day, there are actually several lucrative opportunities out there if you know how to market yourself. You can specialize in technical or creative writing, content marketing, copywriting, editing – the possibilities are endless! And best of all, you don't even need an office space; after all, this is 2020 and everything can be done from home.
So if sitting at your desk typing away sounds like your cup of tea (or coffee), why not take advantage of this unique opportunity and make some extra cash on the side doing something that comes naturally to you? Who knows – maybe one day this will become your full-time job and provide you with financial freedom!
8) Proofreader
As a proofreader, you can help writers refine their work and make it shine. This is an ideal job for women who are detail-oriented and have sharp eyes when it comes to spotting errors in written material. Here's what you need to know if you want to become an online proofreader:
* Brush up on your grammar rules and be able to recognize different writing styles.
* Invest in the right tools such as text editors and software that will help you speed up your workflow.
* Have a steady internet connection so that you don't miss deadlines or lose track of projects.
* Create a portfolio showcasing all the work you've done so far; this helps potential clients understand the kind of services you offer.
Proofreading requires excellent concentration, attention to detail, and dedication—all qualities many women possess naturally! You can set your own hours, choose which projects to take on, and even pitch yourself for higher paying jobs once you gain more experience. Plus, with access to the internet from anywhere, there's no limit to how much money you can earn remotely as an online proofreader!
ONLINE BUSINESS IDEAS FOR WOMEN
9) Virtual Assistant Services
Did you know that one in three entrepreneurs are female? That's an incredible statistic which shows the power of women to pursue their own dreams and start a business. Virtual Assistant Services is just one of many online business ideas for women, making it possible to turn your skills into a successful career from home.
Virtual assistant services can involve anything from data entry and customer support, to social media management or scheduling appointments. You could use your existing skill set such as writing, design, or web development. With this kind of job, you don't need any special qualifications – all you need is yourself! The best part about working as a virtual assistant is that you get to be your own boss and determine how much work you want to do each day. Plus, you'll have plenty of flexibility when it comes to setting prices and taking on new clients.
As a woman entrepreneur looking for online business ideas, virtual assistant services might be right up your alley if you're willing to put in the effort. It doesn't matter what kind of experience or background you have—you can make great money providing these kinds of services with minimal investment upfront. So why not give it a try today? Who knows where it will take you tomorrow?
10) Tutoring Or Teaching Classes Online
Women have a great opportunity to share their knowledge by teaching classes online. With the right resources and preparation, it's easy for women to start up tutoring or teaching services from home. This allows them to work on their own terms while impacting others in an incredibly powerful way.
Creating lesson plans and hosting webinars can be made easier with modern technology tools like Zoom, Google Classroom, and Microsoft Teams – making it simple to deliver instruction remotely. Women can also choose which courses they want to offer based on their expertise or interests. Whether it's marketing strategy, foreign language, coding tutorials or any other topic; there are plenty of options available when it comes to creating an online course that appeals to learners.
As a tutor or instructor, women will gain invaluable experience as well as make money doing something they love. They can create content tailored specifically towards individual students' needs and help people learn new skills without having to leave the comfort of their own homes. Plus, when working online, you don't need a lot of initial capital investments — just some time and effort!
11) Freelancing
Freelancing and gigs offer great opportunities for women who want to start an online business. With so many jobs available in the gig economy, it's easy to find a job that fits your skillset or interests. You can become an expert in graphic design, web development, social media management, marketing, virtual assistant roles or other tech-related fields. Plus you get to set your own hours and work from home! The best part is that there are no limits on how much money you could potentially make – as long as you put in the effort.
You don't even need any upfront capital when starting out; most freelancers just create a profile on popular sites like Fiverr or Upwork and begin bidding on projects right away. By taking advantage of these platforms you can easily build up a portfolio of work and expand your network within the industry. Most importantly, through freelancing and gigs you can bring value to customers while creating financial success for yourself at the same time!
ONLINE BUSINESS IDEAS FOR WOMEN
Final Thoughts
In conclusion, the options for women to start an online business are vast. With creativity and diligence, any woman can find a way to turn her passions into profit.
The beauty of beginning an online venture is that it requires relatively low overhead costs and minimal risk compared to starting a traditional brick-and-mortar business. Plus, you have access to millions of potential customers across the globe without having to leave your home. My hope is that every woman who reads this article will be inspired by these ideas and take action on them today.
By taking risks and believing in yourself, there's no limit to what you can accomplish as a female entrepreneur! With dedication, courage, and faith in yourself and your vision, you can create an extraordinary life filled with abundance and success.
Hi, I'm Claire Bullerwell
I've ran dozens of home-based businesses, both offline and online, since my early twenties. I started this blog to share all my wealth of knowledge and experience to help women just like you; to find your dream home business. Fill that empty nest, work around your menopause and just live your best life at 50 something!
Follow me and let's get acquainted…